Here's the 2015 Democratic Debate Schedule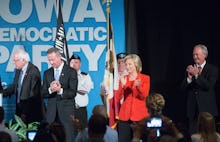 The much-discussed kickoff to the Republican primary debate season is slated for Thursday, but there's been uncertainty about when Democratic candidates would take the stage. Now, the Democratic National Committee has finally announced the debate schedule for the 2016 primary season. 
The first of six Democratic debates has been scheduled for Oct. 13 in Nevada and will be hosted by CNN. The second debate is expected Nov. 14 in Iowa, followed by a debate in New Hampshire on Dec. 19. 
Here's the full schedule as announced Thursday by the Democratic National Committee: 
"We are thrilled to announce the schedule and locations for our Democratic primary debates," DNC chair Rep. Debbie Wasserman Schultz of Florida said in a statement. "These six debates will not only give caucusgoers and primary voters ample opportunity to hear from our candidates about their vision for our country's future, they will highlight the clear contrast between the values of the Democratic Party, which is focused on strengthening the middle class, versus Republicans, who want to pursue out-of-touch and out-of-date policies."
There was some speculation the Democratic party was avoiding getting its candidates together for debate, or that it was holding off until next year. In May, the committee announced its plans for a series of six primary debates to be held "beginning in the fall of 2015," but there were no set dates and no indication of when the schedule would be released. At least four states (Iowa, New Hampshire, Nevada and South Carolina) would host a debate, according to the committee's statement. 
Democrats are entering the primary debate season late in the game compared to previous presidential election cycles. By this time in 2007, the party had already held five debates, the Daily Beast reported. Democratic strategist Anita Dunn said the committee had delayed the debates because, until more recently, the room was pretty empty. 
"If we had tried to hold debates in April 2015 we would have had no candidates," Dunn told the Daily Beast. "The Republicans are starting in August, we will start in the fall, and I think both parties felt this was the right balance."
Five Democratic candidates are vying for their party's nomination. The first to formally announce her candidacy was former Secretary of State Hillary Clinton, 67, the party's undeniable frontrunner, on April 12. Sen. Bernie Sanders from Vermont announced two weeks later and instantly put the Clinton camp on high alert. 
The other candidates expected to partake in the Democratic primary debates are former U.S. Sen. Jim Webb, former Maryland Gov. Martin O'Malley and former Rhode Island Gov. Lincoln Chafee. 
One potential latecomer to the race could be Vice President Joe Biden, who may have toyed with the idea of tossing his name in the hat, but there's so far little indication he'll end up on the debate stage.