Frank Ocean New Album 2015: 'Boys Don't Cry' Still MIA, But Website Mysteriously Changing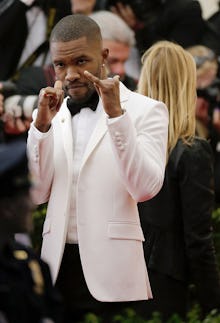 Frank Ocean, hear the Internet's call: Fans are desperately awaiting the highly anticipated release of Boys Don't Cry, the album you basically promised would be available by the end of July.
But ever since the hip-hop crooner missed the July deadline for his third studio album, social media has been abuzz about the record's whereabouts. Fans are avidly tracking his website, Tumblr and other social media pages, relentlessly posting their frustrations about their beloved artist's missing album. 
Finally, in what seemed like the sign of a developments, Ocean's website was shut down throughout Tuesday afternoon, redirecting to a page titled "BoysDontCry.co," which was temporarily unavailable. Cue widespread hysteria:
Though nothing definitive has yet been confirmed, there is some good news coming out of the longest five days of any Channel Orange fan's life: Reports that some new merch is being added to Ocean's website reveal some interesting styles the artist may be promoting in one of the versions of his latest project.
Ocean first caused mass hysteria when posted a picture on his Tumblr that seemingly revealed artwork for his upcoming album. The caption read, "I got two versions, I got twooo versions." 
Still, we're holding on to hope that this could just be the epic release to a groundbreaking album from the singer. "Everyone should be excited about this new album — that shit is fire," Nabil Elderkin, who directed Ocean's "Pyramids" video, told BuzzFeed in June 2014. "He's making a great record. It blows the sophomore album myth out of the water."
We're waiting on your response, Frank.