5 Moments Ronda Rousey Proved She Can Hold Down Her Own Biopic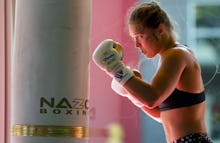 Right now, MMA superstar Ronda Rousey can do no wrong. She's knocking out her opponents in less than a minute, winning ESPYs and making movie cameos. But Rousey may take on her biggest role on the big screen — herself. 
The UFC bantamweight champion was cast as herself in a biopic based on the New York Times best-selling autobiography My Fight/Your Fight, Variety reported Monday. And while most larger-than-life athletes don't necessarily transition to become the next Sir Laurence Olivier, some like LeBron James in Trainwreck and Dwayne Johnson in nearly every action movie ever have proven there's an exception to the rule. Here's how Ronda may join the club of elite athletes who transition to the big screen. 
1. Rousey has all the confidence in the world.
She'll be the first to say she's feeling herself. "Just because my body was developed for a purpose other than fucking millionaires doesn't mean it's masculine," she said in a pre-championship training video diary series called Embedded. "I think it's femininely badass as fuck because there isn't a muscle in my body that isn't developed for a purpose."
She added, "Being put in the position of being a role model, I don't think I'm infallible enough for that. I have this one term for the kind of woman that my mother raised me to not be and that's a 'do-nothing bitch,' or I call it a DNB a lot of the time. Like, the type of chick that just tries to be pretty and be taken care of by somebody else."
Just look at how much of a badass she is. After knocking out her bantamweight challenger Bethe Correia in 34 seconds Saturday, she turned to her and her fans and cooly quipped, "Don't cry." 
2. Rousey steals the show everywhere she goes.
A pre-championship fight workout in Brazil showed Rousey has a huge draw to people around the world. With her massive following and smart mouth, those in the know can't help but watch the captivating fighter, whose skills are nearly hypnotic. 
3. Rousey changed the sport for women. 
Just as Rousey was transitioning from competitive judo to mixed martial arts (and bartending in Los Angeles), UFC president Dana White famously proclaimed women would "never" fight in his league. Not too soon after, Rousey cornered White at an event to tell him she would be the first female champion of the league, according to the Wall Street Journal. These days Rousey is a major draw to UFC fans and supporters around the world and has at least two major endorsements with Buffalo Jeans, and most recently, Reebok. 
4. Rousey tackles everything full throttle. 
In an interview on Jimmy Kimmel Live, Rousey recounted a judo match in which her opponent had dislocated her arm during the match twice. "In judo, you can't ask for the medics on the mat, or else you get disqualified, so I had to pop [my arm] back in myself," she said. "And then I had 20 seconds left, and I won the fight." 
This sort of tenacity is emblematic of Rousey's nature, as she's climbed her way up through the ranks to become the women's bantamweight champion, and defended her title through hard work that comes off as effortless in the ring. 
5. Rousey's no stranger to the big screen. 
In addition to pummeling Turtle in the Entourage movie earlier this year, she appeared in other explosive action films, The Expendables 3 and Furious Seven. For 2016, she's in talks to star with Mark Wahlberg in Mile 22, which is about a CIA field officer and an Indonesian police officer who have to transport an informant together.