A 12-Year-Old Florida Boy Allegedly Tried to Murder a Transgender Woman for No Reason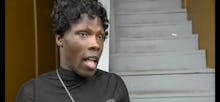 A 12-year-old boy has been arrested in connection with a possible hate crime in Orlando, Florida, after he allegedly emptied a loaded pistol at a transgender woman Thursday night.
Local television station WZZM reports 26-year-old Shandebine Sherrington (also identified as Cheyenne West by WESH) was not harmed in the attack, but claims the boy chased her for several blocks while shouting "faggot" and attempting to kill her with a Ruger handgun in what was apparently an unprompted attack.
"I was walking along Church Street, going towards a friend's house, when I was approached by a 12-year-old saying he was going to kill me," Sherrington told WZZM. "I don't know who this individual was and he started shooting at me, chasing me multiple places to shoot at me ... He was just saying foul words. Thankfully I had witnesses that were out there and saw this young man shooting and chasing me down the street."
Sherrington said she then turned and chased the suspect down after he expended all ammunition and as law enforcement arrived.
Sgt. Wanda Ford of the Orlando Police Department provided Mic with a redacted copy of the incident's police report, stating police arrested the boy in question for attempted murder and grand theft third degree of a firearm. Mic has redacted additional names that could be used to identify the suspect.
While hate crimes against gay and lesbian people have declined, BuzzFeed recently reported data by the National Coalition of Anti-Violence Programs demonstrated hate-motivated violent crimes against trans people were up by 13% in 2014. Transgender people of color were particularly at risk — of the 20 LGBT homicide victims killed during possible hate crimes in 2014, "16 were people of color and 11 were transgender women of color."
While the debate over same-sex marriage fades in the wake of June's Supreme Court ruling legalizing gay and lesbian marriages nationwide, politicians who oppose LGBT rights have continued to legitimize anti-trans discrimination with laws legislating where trans people can use the bathroom and by fighting non-discrimination protection laws for LGBT people in the workplace. 
Florida in particular has seen legislative attacks on transgender people. A controversial bill that would have penalized transgender people who use bathrooms "of the other biological sex" with up to 60 days in jail and a $500 fine died at the end of the legislative session in April.
As Mic noted in April, there exists no evidence to suggest transgender people are involved in any kind of harassment of cisgender people.