Dr. Dre's New Album 'Compton: The Soundtrack' Comes Out Saturday — Here's What We Know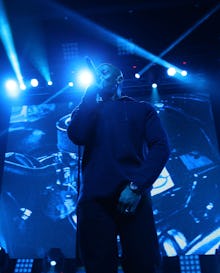 It's official: Dr. Dre is releasing Compton: The Soundtrack on Friday, one week before the Straight Outta Compton film it was inspired by premieres in theaters.
The rapper said Saturday on the Beats 1 Radio show his album would be dropping and will feature collaborations with Kendrick Lamar, Jill Scott, Eminem, Snoop Dogg and Ice Cube, CNN reports.
Dre says he was leaving the set of Straight Outta Compton when he became inspired by Compton, the film and its history. "I was leaving the set, coming to the studio, and I felt myself just being so inspired by the movie that I started recording an album," he said. "And I kept it under wraps. And the album is finished."
It's been 16 years since Dre released his last studio album, 2001, though he has since put out some hits alongside fellow rappers, including "Kush" in 2010 with Akon and Snoop Dogg. He was also nominated for a Grammy Award in 2011 for "I Need a Doctor" featuring Eminem and Skylar Grey.
Dre has kept the highly anticipated release under tight wraps, and it's still unclear whether the newest tracks will be featured in Straight Outta Compton. However, one thing is certain: The project definitely isn't called Detox, the name of Dre's previous album set to have been released years ago.
"The reason Detox didn't come out was because I didn't like it, I don't think I did a good enough job, and I couldn't do that to my fans, and I couldn't do that to myself, to be perfectly honest with you," Dre said on the Beats 1 Radio show. "I just wasn't feeling it."
Fans will have an entire week to review Dr. Dre's latest project before checking out Straight Outta Compton, in theaters Aug. 14.