Donald Trump: Where 2016 Candidate Stands on Gun Control, Marijuana and Immigration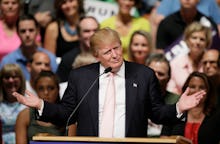 Billionaire investor Donald Trump has offered his unbridled remarks on everything from Mexican immigration to Sen. John McCain's military career and mocked or attacked several of his presidential running mates, but, as political experts have pointed out, the White House hopeful has offered little so far in the way of actual policy platforms. 
Here's where Trump stands on three of the leading issues of our time: gun control, marijuana and immigration.
On gun control
Gun control has been a topic of debate across the country given the frequency of recent attacks by private citizens using firearms in public places. 
Trump, like many Republicans, has said he stands firmly in the pro-firearm camp and generally opposes gun control measures. "I am against gun control," he said in a 2011 speech at the Conservative Political Action Conference. 
He described himself in 2013 to Fox News as a "very strong person on the Second Amendment."
On marijuana legalization
Despite having called for the legalization of all drugs 25 years ago, Trump most recently said he didn't like the idea of legalizing marijuana for recreational purposes, but basically said it should be up to states to decide. 
"I think it's bad, and I feel strongly about that," Trump said at the Conservative Political Action Conference in February. "They've got a lot of problems going on right now in Colorado, some big problems." Colorado and Washington were the first states to legalize weed in 2012. 
However, when asked about states' rights versus federal law in regards to marijuana legalization, Trump said, "If they vote for it, they vote for it."
On the other hand, Trump said he supported medical marijuana. "Medical marijuana is another thing," Trump said at the Conservative Political Action Conference in February. "I think medical marijuana, 100%."
On immigration
Perhaps Trump's most controversial issue has been immigration. He has frequently called for building a wall along the U.S.-Mexico border to keep immigrants from crossing into the country illegally. 
"They're sending people that have lots of problems, and they're bringing those problems with us," Trump said of Mexican immigrants during his candidacy announcement in June. "They're bringing drugs. They're bringing crime. They're rapists. And some, I assume, are good people."
Trump has dominated the GOP field in early primary season polls. He was the top choice among primary Republican voters, leading the field with 24% support, according to the most recent CBS News poll. 
Whether he has the staying power to survive until the elections is unclear.