Watch the Hilarious and NSFW First Trailer for Marvel's 'Deadpool'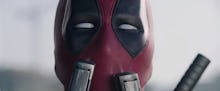 It was a massive hit at this year's San Diego Comic-Con, and by the looks of its first full red band trailer, it's about to be a massive hit when it finally reaches theaters in 2016. But the wait is over, and after 15 years in development, Deadpool has finally arrived. 
The most recent spin-off installment in the X-Men saga, Deadpool tells the story of its eponymous hero's beginnings as a disease-ridden mercenary with a quick wit and dirty mouth who's artificially endowed with the mutant ability to heal himself at a superhuman rate. 
Which is to say, he's not afraid to get a little scraped up:
Or jump directly into a dangerous situation:
All while still maintaining the Deadpool deadpan wit and charm his fans have grown to love:
Ryan Reynolds will be reprising the role he originally helmed in 2009's X-Men Origins: Wolverine and will be joined by a cast featuring Morena Baccarin, Ed Krein and T.J. Miller, among others. Aside from telling Deadpool's origin story, little else is known about the plot thus far. Much of the action will likely follow Wade Wilson as he comes to terms with his new powers and seeks a cure and revenge against those who experimented on him and gave him his unnatural abilities in the first place. 
But given Deadpool's SDCC reaction and the early looks of this red band trailer, the movie is primed to be a thrill ride. Watch the full trailer below: