Twitter Is Using the Hashtag #BeyBeAHero to Fight for LGBT Equality in Texas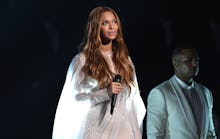 Twitter has sent a call to action to Beyoncé to help stop a repeal of HERO, Houston's Equal Rights Ordinance passed by the city council last April that bans discrimination against LGBT people in employment, housing, public accommodations like hotels and restaurants and other areas.
On July 24, the Texas Supreme Court ruled the Houston City Council must either repeal the city's equal rights ordinance within 30 days or place it on the November ballot for voters in Houston to decide whether the ordinance should remain in effect, writing in the decision, "the legislative power reserved to the people of Houston is not being honored." The decision comes one year after a state district judge ruled opponents of HERO failed to gather enough valid signatures to force a repeal referendum. 
So, in response to the late July ruling, Carlos Maza, program director at Media Matters for America, wrote an article for Huffington Post calling on Beyoncé to make a stand against the repeal by posting a supportive message to her millions of followers on social media. Maza's article went viral, sparking the trending hashtag #BeyBeAHERO on Twitter.
Maza tells Mic:
"Ballot fights around nondiscrimination laws are always ugly and traumatizing. I was really upset Houston was going to have to go through it ... Houston suffers from low turnout during these kinds of votes. Beyoncé's marriage equality post last month [June] got over a million likes and tons of press coverage. Having her bring her international attention to a local fight like HERO would be a game changer, and would take control of the story about HERO away from conservatives, who have been dominating local media coverage there for months."
Conservative local media in Houston has been covering the city's nondiscrimination ordinance since it passed in April. Fox News anchor Mike Huckabee wrote in his memoir, God, Guns, Grits and Gravy, Jay Z is a "pimp" who's been "exploiting" Beyoncé's body, and also called on Houston residents to "support your own Biblical beliefs" and uphold "God's definition of human sexuality" and "common moral decency" by demanding their local government officials repeal HERO immediately. 
Maza, for his part, argues the power of a celebrity's voice behind a local issue like this could effect major change in the public discussion on HERO: "The problem with ballot fights over non discrimination laws is that most people already think it's illegal to refuse service, employment, housing, etc. to LGBT people. They likely don't even know HERO is facing a repeal vote. The kind of awareness a statement from Beyoncé would bring would really change the debate."