The Latest — and Most Hilarious — Sign That American Apparel Has a Problem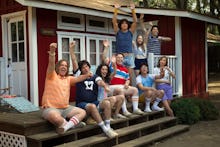 What's the clearest sign your trendy, of-the-moment clothing store is having issues? When the clothes are deemed perfect for a painfully unstylish throwback TV series where the clothes are played for jokes.
According to an interview with the New York Times, American Apparel was the clothing brand of choice for new Netflix series Wet Hot American Summer: First Day of Camp. Costume designer Leslie Schilling chose the brand for its retro appeal, including the classic tube socks and tiny men's bottoms that were at peak style in 1981.
"American Apparel still sells dolphin shorts with colored piping, they have tube socks in any color you want, basic tees and baseball tees," Schilling told the New York Times. 
The throwback styles are perfect for the series, which tosses the now-middle-aged actors back to 1981 and into teenage wardrobes. The contrast is played for absurdity, with Coop (Michael Showalter) unabashedly wearing a varsity-style tee over his Dad Bod and Victor (Ken Marino) showing off his 46-year-old guns — and nips — in a mesh muscle tank.
The clothing adds to the hilarity that is Wet Hot American Summer: First Day of Camp — and highlights how undesirable these clothes are today. 
American Apparel has always leaned hard on its retro 1970s-meets-1980s vibe, playing up the high socks and skimpy sportswear for sex appeal. That worked for a while, as we all know; the old-school ringer tees and leotards were ironic and therefore considered "hipster." 
The brand "mass-marketed the counterculture by honoring art, music and fashion of the past; rejecting traditional lifestyles and careers; and appreciating irony," Elizabeth Segran wrote for Racked. "In college towns, students looking to express their newfound interest in indie rock or '80s nostalgia could put together an entire look in a matter of minutes at one of these stores; they didn't need to dig through bins of old T-shirts at Goodwill anymore." 
But that version of hipster, like so many others, had its moment, then faded. It didn't help that American Apparel CEO Dov Charney also "wanted to recreate the mythologized atmosphere of the sexuality of the '60s and '70s," according to the New Yorker, complete with its workplace sexual harassment. Retro and nostalgia are cool until they're just old, and another era gets its moment of rebirth. 
American Apparel is reportedly on the brink of bankruptcy with a $13.9 million interest payment due in the fall and not enough cash on hand to make it. 
The brand and its clothes are no longer cool, to say the least. In fact, at this point, they're a joke — just ask those giggling at the fabulously short shorts and "vintage" tees of Wet Hot American Summer: First Day of Camp.