2015 Republican Debate: Here's What You Need to Know for Thursday Night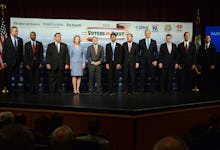 On Thursday, 10 Republican candidates for president of the United States of America will appear on the Fox News debate stage. 
Plucked from a lineup of 17 presidential hopefuls, the debate roster will include real estate magnate Donald Trump, former Florida Gov. Jeb Bush, Wisconsin Gov. Scott Walker, Florida Sen. Marco Rubio, Kentucky Sen. Rand Paul, Texas Sen. Ted Cruz, former Arkansas Gov. Mike Huckabee, neurosurgeon Dr. Ben Carson, New Jersey Gov. Chris Christie and Ohio Gov. John Kasich.
"Our field is the biggest and most diverse of any party in history and I am glad to see that every one of those extremely qualified candidates will have the opportunity to participate on Thursday evening," Republican National Committee chairman Reince Priebus said, according to USA Today. "Republicans across the country will be able to choose which candidate has earned their support after hearing them talk through the issues."
The network announced the debate roster on Tuesday. Here's everything to know for Thursday's Fox News Republican debate:
When and where to watch: The first event of the 2016 presidential primary debate season is scheduled for Thursday at 9 p.m. EDT, and is expected to run about two hours. Fox News and Facebook will host the debate in Clevelandpr at the Quicken Loans Arena, which is set to house the 2016 Republican National Convention next year.
Viewers can catch the debate live on Fox News or online through the network's website by logging in with their cable provider.
The criteria: How Fox News went about selecting the top 10 candidates for the debate has been somewhat controversial. Limiting the stage to just 10 candidates means low-polling Republicans won't get the same exposure as their higher-polling counterparts.
"They know, and everybody knows, that arbitrarily setting this 10-candidate cutoff when you've got 17 people running is gonna have politically fatal consequences for if not all, at least most of the candidates who make that top 10," MSNBC host Rachel Maddow said Tuesday. 
Fox News used the latest national poll numbers to choose which candidates would advance to the debate. The polls were from Bloomberg, CBS News, Fox News, Monmouth University and Quinnipiac University, according to the CNN Wire. 
Fox said it considered only polls that used "live interviewers, random digit-dial sampling techniques" and "both landlines and cellphones." Additionally, all candidate names had to be read "in random order and without honorifics."
Pre-debate for remaining candidates: For the candidates left on the sidelines of the main debate, Fox will host an hour-long debate at 5 p.m. EDT. That will include former Pennsylvania Sen. Rick Santorum, former Hewlett-Packard CEO Carly Fiorina, Louisiana Gov. Bobby Jindal, South Carolina Sen. Lindsey Graham, former New York Gov. George Pataki, former Texas Gov. Rick Perry and former Virginia Gov. Jim Gilmore. 
Perry tweeted that he was looking forward to the pre-debate debate. 
Other candidates weren't so pleased with being sidelined. "The idea that they have left out the runner-up for the 2012 nomination ... due to polling seven months before a single vote is cast is preposterous," Santorum's communications manager Matt Beynon said in a statement Tuesday, according to NBC News.