What the Terrible Ratings for 'I Am Cait' Say About Us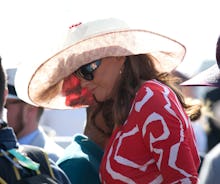 The ratings for I Am Cait are bad. That's indisputable. But how bad are they?
The show bowed to a disappointing initial number last week — 2.7 million viewers, a significant step down from 4.24 million for the Keeping Up with the Kardashians special about Caitlyn Jenner's transition. In the show's second week, ratings plummeted. The show was watched by 1.3 million viewers, a staggering drop-off of 53%.
What happened? What was it about this groundbreaking show that was so offensive as to love over half its audience? Put simply: The audience got bored.
To Jenner's tremendous credit, she and her team at E! chose to focus on education in I Am Cait. A therapist sat down with Jenner and her family, including her mother Esther, in the first episode. The second featured trans women from a variety of backgrounds, many of color, to call Jenner out on her privilege.
All that makes for responsible, powerful programming. It's likely why E! is marketing the show as a docu-series, not as a straight-up reality show. It's also not the most compelling for the audience most used to shows like the Kardashian flagship and Hollywood Cycle, a series about the drama at a spin class house.
In fact, some viewers seemed perplexed they weren't seeing more of the Kardashian clan on the show. Apparently one token appearance from Kanye West wasn't enough.
In truth, I Am Cait was always going to be a hard sell to the E! audience. Head of programming Jeff Olde was enthusiastic about the show in Jenner's Vanity Fair coming-out story, saying, "If I get one thing right in my professional career, it will be this." The implication is that doing the show right is more important than ratings. But one has to assume these are still disappointing results.
This series might make a better fit on a network like HBO, or even E!'s sister network, NBC. The audience that tunes in for the high drama of E!'s other series isn't going to be warm to a show like this. That's not an indictment of them or the network, rather a comment on why finding the right audience is so important. A network can't force their audience to be something they're not.
Should it be renewed for a second season, I Am Cait might consider a channel jump to NBC. It's an important series, and it deserves an audience that can really learn from it. It would truly be a shame to see it discarded as "boring" — or, worse, for producers to manufacture drama to make it more interesting. Taking an authentic, powerful program and making it dreck would be the most disappointing result of all.