2015 Presidential Polls: Here's Who's Leading for Each Party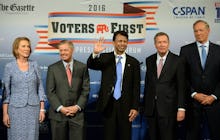 The presidential primary season is revving up with the first major Republican debate scheduled for Thursday, and polls for both Republican and Democratic candidates continue to roll in. 
According to the latest CBS News national polls, real estate magnate Donald Trump has continued to poll strong with likely Republican primary voters. Twenty-four percent of people CBS News surveyed said they'd vote for the billionaire investor for president. 
Trump was trailed by former Florida Gov. Jeb Bush, who had 13% voter support, and Wisconsin Gov. Scott Walker, who was the pick for 10% of respondents. 
Only 10 out of 17 GOP contenders are slated to take the Fox News stage Thursday, and where candidates stood in national polls made all the difference in whether they made the cut. 
There's still no clear word when the Democratic candidates will face off, but the Democratic National Committee said Monday it would announce the debate schedule by the end of the week. 
The CBS News poll showed some unsurprising results among the relatively short Democratic roster. Former Secretary of State Hillary Clinton commanded the primary field by a wide margin, getting 58% of Democratic primary voters' approval. Sen. Bernie Sanders (I-Vt.) was the runner-up, with 17% support.
Democrats said they viewed Clinton as the most electable out of the bunch, according to CBS News. The network found that Clinton had "widespread favorability" among Democratic voters.