Here's How People With Disabilities Are Taking Back Their Sex Lives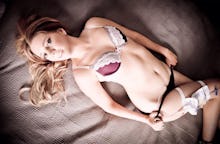 Fibrodysplasia ossificans progressiva is a rare genetic disorder that causes muscles, joints and ligaments to slowly fuse together, or ossify, with solid bone. Over time, the disease reduces mobility as sufferers become literally trapped in their own bodies. 
Something that can be particularly difficult for people with FOP is sex. 
Texas man Nick Mahler, who has the condition, is trying to make things a little easier, not just for himself, but for all of the United States' 35.2 million physically disabled adults. 
"Our boomer population is getting older," Mahler told Mic, referring to the demographic that has a large percentage of people with physical disabilities. "They still enjoy sex and masturbation and they want ways to continue experiencing pleasure even if they might be mobility impaired."
In 2008, Mahler walked away from a decade-long career in the mortgage industry to focus full time on his pet project Dallas Novelty, a sex toy store with a significant focus on catering to the disabled population.  
"The main way we are helping our disabled customers is by actually answering the phone and emails when they ask questions. Our customers appreciate the personal service as well as suggestions of products that might work better," said Mahler. "Most toy shops would rather concentrate on the mainstream public, which leaves a growing segment to figure it out for themselves."
Various sex toy shops and manufacturers Mic contacted appeared unsure or uncomfortable addressing the subject. Tic Tac Toe, an adult products store in New York, was openly dismissive when asked about the possibility of sex toys for the disabled. "That doesn't make any kind of sense ... There is nobody who does anything like that," said a woman who answered the phone. "I don't think we're interested in answering your questions," she added before hanging up. 
According to Mahler, most existing sex toys work well enough for the disabled — if users know about a number of "sex toy hacks." 
"What makes them for disabled customers is knowing how to use them maybe in a different way than an able-bodied customer would or even think about," he told Mic. 
In some cases, he said, manufacturers were starting to take more consideration of disabled people's needs by reducing some areas of vibration to make certain toys easier to grip. The California-based company Sportsheets also offers toys for disabled veterans, including customized harnesses and vests to recreate the pleasures of able-bodied intimacy.
"Most toy shops would rather concentrate on the mainstream public which leaves a growing segment to figure it out for themselves."
Andrew Morrison-Gurza, a disability awareness consultant, echoed Mahler's sentiments. "People with disabilities can have full sex lives and be completely sexually active," he told Mic, adding he thought Mahler's company was "really innovative." 
The Toronto-based Morrison-Gurza says the problems run much deeper than indifference. "When you put disability and sexuality in bed together people get very scared," he said. "We've been taught as a society that people with disabilities never have sex and aren't sexually active."
To fight the stereotype that disabled people are asexual, Morrison-Gurza, who has cerebral palsy, helped organize a sex party for the physically challenged and their allies in Toronto that is set to take place August 14. The event will be fully wheelchair and cane accessible, while any accompanying attendants may also attend at no extra charge.
Entrepreneurs and activists like Mahler and Morrison-Gurza are part of a growing movement to create more awareness around sexuality and disability issues. Rachelle Friedman Chapman became a champion of the cause when she posed for erotic photographs in a recent photo shoot. Chapman became a paraplegic during a poolside accident shortly before her wedding in 2010.
"We need to move past questions like why or how and look at the reality [of disabled sexuality] and put it in people's face," Morrison-Gurza said. "There is this taken aback-ness of this thing when there really shouldn't be."
With stores like Dallas Novelty, that surprise is slowly fading, one dildo at a time.