Macklemore's "Growing Up" Lyrics Get Deep With New Track Featuring Ed Sheeran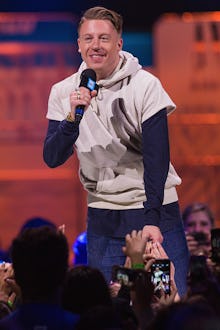 Macklemore was everywhere in 2012, but after The Heist came and went, he slipped out of the public eye. In that radio silence, he's been hard at work on new music, and Wednesday we got our first taste. After tweeting out a countdown, starting with "30 minutes..." then "15 minutes..." right at noon, Macklemore tweeted a link to a new song, "Growing Up," featuring Ed Sheeran. 
It seems indie's biggest MC has still got it.
All grown up: Over the kind of simple, sparse poppy production where he thrives, Macklemore spits a series of verses directed toward his newborn daughter and himself, all about figuring out how to grow up. "I just wanna be a good dad," he raps. "I'm gonna be there for your first breath / I don't know if I'll be there for your first step / I could promise you that I'll try to work less / But I got this tour routed and I got this album." He gives her some life lessons, recommending she listen to Sam Cooke and read Lorraine Hansberry: "I suggest A Raisin in the Sun."
Finding out that his wife was pregnant was a transformational moment for Macklemore. According to a recent interview with Complex, addiction plagued him on tour in 2014, and it wasn't until he found out his daughter was on the way that he was able to sober up and start writing again. "I was like, I need to grow up right now," he told Complex. He acknowledged this maturing period again in a statement on his website Wednesday: 
A new Mac: There will be a lot more where this came from, now that Macklemore is clean, sober and focused. "I put in so many hours / and I just want the outcome to be something that I can be proud of," he raps about the coming album. "I got a world to sing to and you at the same time." He hasn't revealed much about what he'll be singing about on those forthcoming tracks, other than one song about cultural appropriation, essentially a continuation of the conversation he started on his 2005 track "White Privilege." 
The world is ready, Macklemore. Keep it coming.