Frank Ocean's New Album 'Boys Don't Cry' Could Be Coming With New Swag Too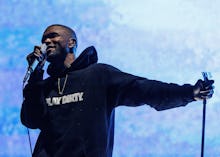 Dear Frank Ocean: Another August day has come and gone, and we're left "Thinkin' Bout You" and where that album you promised would be released in July might be.
Ever since the deadline Frank Ocean gave himself to deliver fans his second studio album, Boys Don't Cry, passed on July 31, the Internet has been having a collective meltdown and stalking the artist's social media accounts for any clues about the eventual release. Most recently, his official website was taken down temporarily while updates were performed, but not before fans managed to take a look into the source code behind the webpage. 
The Fader reports some new gear found was within the website's code that reveals everything from possible partnerships with major brands to pricing on new merchandise. 
Ocean's website appears to have a new t-shirt for $30 and a hoodie for $60, both with a similar design and conveniently titled "Stripe Box Tee" and "Stripe Box Hoodie" within the code:
It seems as though a new line of shoes will be dropping along with the release of the new website and the new album (whenever that may be). However, it's unclear whic brand, if any, the "Novacane" singer will be partnering with. As Fader reports, the yellow kicks are titled "Yohi [sic] Yamamato Y-3 Sneakers" on the website, but appear to bear the Vans logo. 
Additionally, the shoes are priced on the website for $50, while the high-end Y-3 fashion line prices most men's shoes between $300 and $400. So the jury is still out on what this might mean in terms of a Frank Ocean clothing or sneaker line.
There is another listing in the code for a "Frank Ocean Summer Tee," but there is only a placeholder image within that file, according to Fader. However, when you visit the link that would bring you to this mysterious "summer tee," the site is directed to a page that says, "The page you requested does not exist. Click here to continue shopping." The "here" links back to BoysDontCry.co, so we'll have to wait and see what shopping can be had on Ocean's new site, once he decides to show it to us... should that day ever come.
h/t Fader