Flight MH370 Wing Piece Confirmed to Have Been Found in Indian Ocean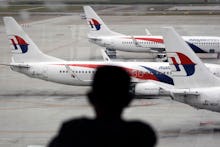 Officials have confirmed that the partial plane wing discovered on an Indian Ocean island belonged to the missing Malaysia Airlines Flight MH370, whose mysterious disappearance in March 2014 has plagued the families of the 239 passengers and crew members who presumably perished, CNN and other network news stations reported Wednesday. 
It was the first real development in the disappearance off MH370, which kicked off the largest search for a missing plane in aviation history. 
Malaysian Prime Minister Najib Razak confirmed the origin of the plane piece as belonging to MH370 during a press conference Wednesday. "It is with a very heavy heart I must tell you a team of experts have conclusively confirmed that debris found on Reunion island is indeed from MH370," he said. "The plane's disappearance was without precedent. At every stage, we followed the tiny amount of evidence which existed."
The piece of debris, a flaperon identified as belonging to a wing of a Boeing 777-200, the same type of aircraft as MH370, was found July 29 on the shore of the French Réunion Island east of Madagascar, more than 2,000 miles from where investigators had focused their search for the aircraft. 
French officials examined the wing piece at an aeronautical test center in Toulouse, France, the BBC reports. 
It was unclear at first whether the wing piece was from the doomed Malaysia Airlines flight; however, certain characteristic marks (manufacturing stamps, unique markings and serial numbers) were thought to have played a role in identifying the debris. 
Does this mean the missing plane will ever be found? Officials said it certainly makes finding the rest of MH370 possible. Investigators could follow the ocean's currents to trace the debris back to its origin, Discovery News reports. Scientists could also study organisms living on the wing piece to figure out where the debris may have come from, according to Discovery News.