2015 Will Be Remembered as the Year Hip-Hop Became Urgent Again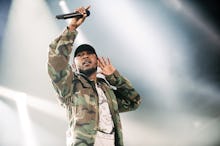 "Where were you when you first heard Kendrick Lamar's To Pimp a Butterfly?" This will be the question hip-hop heads ask each other on hazy summer nights years from now. The album's March surprise drop was monumental, not only for Lamar's legacy but for hip-hop as a whole.
To Pimp a Butterly rocketed a number of important hip-hop trends that had been brewing for some time right to the fore. It got fans discussing the importance of lyrics again. It resurrected jazz. It resurrected Tupac. It reset the standard for what an enlightened street-soldier MC should think and rap like. Lamar's cuts balance gun-blasting street violence with discussions of the social and political factors that cause it — a technique Tupac felt all responsible MCs should use.
But Kendrick's stardom has roots. They include, among others, the hip-hop group Public Enemy. Twenty-five years ago this April, Public Enemy released a masterpiece of politically conscious hip-hop, Fear of a Black Planet. Its lead single, "Fight the Power," inspired countless listeners and MCs to turn their art into a force for change. Public Enemy is about to release their 13th studio album, Man Plans, God Laughs. Chuck D, the group's lead MC, revealed to Maxim that he recently received some inspiration of his own: "I was inspired by Run the Jewels and Kendrick Lamar."
This year it feels like hip-hop's revolutionary spirit is coming back in a big way.
It's a monumental revelation, one that proves we've come full-circle in hip-hop artistry. Today's artists are drawing inspiration from legends. The legends are inspired by what's out today. 
The impact of Lamar's critiques of institutionalized racism specifically seems to only be growing. Most recently, activists attending a Black Lives Matter Conference on July 26 chanted Lamar's "Alright" while rallying against alleged police brutality. Lamar has channeled the Public Enemy brand of socially and politically conscious lyricism.
The best is yet to come. For years, critics and artists have said that hip-hop as a social movement died long ago. But this is far from the case. In 2015, mainstream hip-hop has become a potent political force in a way it hasn't felt in years. The most critically and commercially successful albums of the year have inspired some important conversations surrounding police brutality, racism and morality. The same could not be said for much of the past decade. We may be in the midst of a true hip-hop renaissance.
Numerous albums released throughout the year have attempted to provide a similar soundtrack to the #BlackLivesMatter protests. All have felt consequential and necessary. Run the Jewels released an evocative video for their song "Close Your Eyes (And Count to Fuck)" which depicts a young, black man and a white cop locked in an exhausting struggle that neither can win.
Killer Mike has also taken his political critique out of his bars and into the journalistic realm. He's written two important pieces this year, one for Billboard describing his feelings watching the Baltimore uprising break out while he attended the White House Press Correspondent's dinner in April and the other for Vox, describing the way that rap lyrics are frequently used to prove guilt in courts of law. His statements, musical and otherwise, remind the world that MCs are uniquely positioned to be thought leaders, in additional to their roles as entertainers.
The movement is growing. Numerous MCs have stepped forward to offer music that speaks to our country's ongoing racial issues, such as Kendrick Lamar, Joey Bada$$, Big Sean, Vince Staples and Charles Hamilton, to name a few. Even Future, who's far more known for his in-depth discussions of codeine cough syrup use than biting critiques of racism, released a touching music video capturing the pain of watching years of racially inspired violence continue to unfold.
Vince Staples' entire latest album, Summertime '06, provides an unflinching look at the realities of racism and the dangers of ghetto life: "My teachers told us we were slaves / My momma told me we was kings," he sings on "Summertime," in one of the album's most brilliant lyrical moments. "I don't know who to listen to / I guess we somewhere in between / My feelings told me love is real / But feelings here can get you killed."
It's a sample of the insight that next generation of leaders in hip-hop is bringing to the table as we speak.
A new kind of leadership. The unrest of our times has started the conversations we need to be having about our culture's racial history. Hip-hop has been at the forefront. During the uprising in Baltimore, when community leaders wanted to inspire children to remain focused on building something productive out of the violence, they brought in Wale, a hip-hop artist, from Washington, D.C.
"What we're finding is that this is a new breed of leadership," said Rev. Jamal Bryant, the pastor who delivered Freddie Gray's eulogy, explaining the choice to Good Day D.C. "Leadership for this generation is not an elected official or a title, but somebody who has influence."
Rappers are using their influence to change the system. "For the past four or five years of my career, I've always been very politically correct," J. Cole, another leader of the political revolution taking place in today's hip-hop, told Power 105's Angie Martinez about his protest song for Michael Brown, "Be Free." "But at the end of the day, I realized I'm doing myself a disservice and I'm doing people a disservice. If I'm speaking my mind and saying how I truly feel, I might say one thing that connects the dots for somebody that might have been the right connection that was needed to do something to change the world."
This is the kind of inspiration that hip-hop has intended to bring from its very beginnings. Thank the OGs and the new that it's back.