'Fantastic Four' 2015: Latest News, Trailers, Reviews and More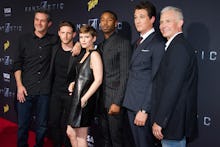 Fantastic Four premieres in theaters Friday, and fans of Marvel's comic series have been anxiously awaiting the highly anticipated release ever since it leaked 20th Century Fox would be revamping the comic book with a brand new film.
The movie features some of the most promising actors of their generation in Hollywood, including Miles Teller (Reed Richards), Michael B. Jordan (Johnny Storm), Kate Mara (Sue Storm) and Jamie Bell (Ben Grimm/The Thing).
The first trailer, released in mid-April, shows the four main characters arriving into a post-apocalyptic world and being forced to fight against the "risk, sacrifices, and consequences" of the futuristic discoveries human civilization has made in the film's storyline. 
Two more trailers have since been released, providing fans a deeper look into the character development and storyline behind Marvel's latest comic-turned-film. The four superheroes, who appear to live normal lives before being thrown into a dangerous mission, seem to have all odds against them in these action-packed teasers:
Early reviews of the film aren't exactly glowing, with the Hollywood Reporter saying they would rather call the film the Unfantastic Four: "A sense of heaviness, gloom and complete disappointment settles in during the second half, as the mundane set-up results in no dramatic or sensory dividends whatsoever." 
Variety's Brian Lowry writes while the film may have improved in its aesthetic and digital quality from the previous versions, it continued to lack the appeal other comic flicks have provided in other recent movies:
"Joining Spider-Man in the annals of dizzyingly rapid reboots, Fox's second stab at "Fantastic Four" comes just eight years after the first try and its sequel, which didn't set the bar inordinately high. Yet if this latest version, with a significantly younger cast (one's tempted to call it "Fantastic Four High"), clears that threshold, it's just barely, drawing from a different source to reimagine the quartet's origins without conspicuously improving them. All told, the movie feels like a protracted teaser for a more exciting follow-up that, depending on whether audiences warm to this relatively low-key approach, might never happen."
Still, fans are itching to see the movie's release on Friday, celebrating the comic across social media: