Chance the Rapper and Lil B Just Released a Surprise Album — And It's Pretty Boss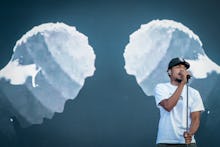 When Lil B and Chance the Rapper announced they would be coming out with a freestyle mixtape back in July, some people likely thought it was a joke. But it wasn't. 
On Wednesday, Chance the Rapper shared the 6-track project, entitled Free, on his Instagram and Twitter: "It's called #Free and yes it's real," he wrote on Instagram. "Conceived from magic, love, acid and bases. We made this the moment we met." 
What a glorious meeting that was.
The tape is quirky as hell. But the songs are hyperconscious of it. The MCs keep the songs loose and light, trading verses back and forth over the kinds of slow, ambient, lightly trapped beats that Lil B helped popularize. And according to the rappers, all the verses are freestyled. 
"By this point you might be a little confused as to what we're doing," Chance says to begin the album's second track. "We're making an entire piece of content from scratch, which is where the best things in life come from. The best things in life come from nothing and become something different. So, you know, this is an allegory to life. Or life is an allegory to this shit."
The whole album goes that deep.
Chance the Rapper himself called the album a "masterpiece" and "a classic" on the Bootleg Kev's radio show on July 30. Now that it's out, the people can judge that bold claim. Lil B's fans are worshiping every syllable on Twitter. At free-99, Free definitely worth a least one listen and a little love.