Here's Why the Weeknd Could Be the Savior Pop Music Needs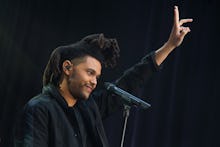 Listening to The Weeknd, one must take pain along with the pleasure. 
The majority of his tracks live in morally gray territories: between the euphoric and depraved, the beautiful and  appalling. 
But lately, the sounds coming from The Weeknd's studio have gotten poppier. He's collaborated with Ariana Grande, appeared on stage alongside Taylor Swift and, according to the official track list for his upcoming album Beauty Behind the Madness, has a song with who many consider the nicest guy in pop: Ed Sheeran. 
But none of this should compromise the complexity artistry of The Weeknd's depictions of love and loss. 
Pop's prince of darkness is on the way to becoming a global pop sensation. He he has something few other artists have: comfort with a diverse, challenging mixture of subject matters. He sings with equal verve about life, love, death and defeat. It's a range that has been missing from in pop for a long while. In 2015, The Weeknd may be just the man bring it back.
The pleasure and the pain: The Weeknd revealed his ambitions to go full-on pop last August when he appeared on Ariana Grande's "Love Me Harder." The combination of his depraved, hedonistic sexuality and her good-girl reputation baffled critics and tastemakers. But surprisingly, it worked.
He rewrote everything that Max Martin — the track's producer and the world's most secretly brilliant hit maker — made to feature his macabre fascinations: "If you know about me and choose to stay/ Then take this pleasure and take it with the pain," he sings in his verse. It's classic Weeknd: seductive, thoughtful and an accurate portrayal of love's dualistic nature. By packaging it into a song filled with clean pop melodies, the Weeknd can broadcast his meditations to a much wider audience.
That's exactly what he's trying to do on a much larger scale with his new album, coming in August. He's lined a lot more Max Martin beats, but he'll be using them a much wider array of stories than most pop albums ever flirt with. The song "In The Night" will feature a glistening pop instrumental hiding the real-life horror story of dealing with childhood sexual abuse. According to the New York Times, when The Weeknd's publisher heard the result, he reportedly blurted: ''It's 'Billie Jean'! It's 'Billie [expletive] Jean'!''
We haven't had a "Billie [expletive] Jean" in a while. Michael Jackson's monster hit dealt with similarly dark themes — a matter of confused parenting, a bastard in the balance. Many of pop's most celebrated songs, albums and acts drew portions of their mystique from their ability to face the disturbing and bring it into their musical world.
The Beatles' immortal Sgt. Pepper's Lonely Hearts Club Band treats themes like impermanence, death, suicide and abandonment with the same reverence that it does love, sunshine and friendship. The Beach Boys' arguably did not become American icons until they released Pet Sounds, which pushed their songwriting beyond cars, girls and beaches into a sobering look at God, lost love and depression. Bob Marley's songs about happiness and peace are the ones we hear most often in commercials and TV shows, but their true significance only comes through when they're juxtaposed with his highly politicized depictions of poverty, war and racism.
This ability to capture both the dark and the light of life is one of the most fundamental requirements for truly classic albums. Marvin Gaye's What's Goin' On, Prince's Purple Rain, Bob Dylan's Blood On The Tracks and pretty much the entirety of Rolling Stone's top 50 "Greatest Albums of all Time" list all share this quality. But it's been barely visible in the majority of big name pop releases in recent years.
Today's pop is excessively clean. The biggest pop releases of recent years have dealt only cursorily with life's disturbing complexities. Taylor Swift's 1989 is exuberant and earnest, but ultimately trite. Ed Sheeran's X makes excellent sleeping music but doesn't offer any sort of unexpected or scrutinizing look at life. The most memorable moments from Katy Perry's last few albums come from those few songs that looked beyond bubblegum and beach parties, such as "By the Grace of God," which she performed at this years Grammys to take a stand against domestic violence.
"These kids, you know, they don't have a Michael Jackson,'' The Weeknd recently told the New York Times. ''They don't have a Prince. They don't have a Whitney. Who else is there? Who else can really do it at this point?"
He might be the one with the sharp ear for melody and poetry and desire embrace to embrace life in all its timbers: dark, light and gray. Because life is never as happy-go-lucky as the mass of chipper pop songs makes it out to be — and the escapist fantasies they provide can only last so long.
"They're in love with this idea of love/ It's a shame that they'll believe it will come for us all," The Weeknd sang on 2013's "Wanderlust," easily interpreted as a critique of lovestruck pop anthems. But The Weeknd and the object of his lyrics are "in love with something bigger than love/ You believe in something stronger than trust/ Wanderlust." This sense of adventure is exactly the danger and nuance pop has been thirsting for.