These Walls Have More Instagram Fans Than You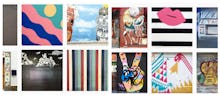 It's the wall that started it all: a layered amalgamation of multicolored, spray-painted hearts at Mott and Kenmare Streets in New York City. In an earlier time, a viewer might have simply stopped to marvel. 
But today, the impulse is different: "Let me take a selfie."
With more than 5,000 followers and counting, fashion maven and former Lucky editor-in-chief Eva Chen's Instagram account PhotogenicWalls isn't just popular — it is a reflection of a young, 21st century viewer's relationship with art.
As we increasingly craft our personas around what we share on social media, the sharing of art — and the sharing of ourselves with art — has become emblematic of modern art viewership. "I was here," your friends (or if we're being honest, all of us) seem to say with each posting, "and this is the kind of style I like." 
Though Chen's Photogenic Walls isn't the only account dedicated to sharing art, it showcases the impulse better than any other — the stated purpose of her account, after all, is to inform followers of potential backdrops for their Instagram self-portraits. When it comes to walls, "photogenic" really means "shareable."
This new art reality has prompted art institutions to respond in kind, increasingly creating and featuring pieces that contain photogenic elements — think neon colors and tactile or reflective surfaces. 
The best example was last summer's Jeff Koons retrospective at the Whitney Museum of American Art in New York City. Featuring Koons' signature large, reflective, candy-colored sculptures, the exhibition capitalized on social media's art-sharing trend, handing out cards that said "Koons is great for selfies," promoting the #ArtSelfie hashtag and reblogging selfies weekly.
Even Koons suggested his art caters to this type of viewership, as he told The Cut in July: "What's really great about art is where art happens is inside the viewer. That's why I work with a reflective surface, so that the viewer realizes that they're a very important element and the work can't become art until it happens inside them."
For conveying our own style around the images we share, public art is ideal. Street art and architecture — like Chris Burden's white street lamp installation at the Los Angeles County Museum of Art, which has become an Instagram favorite — are particularly amenable to sharing, being so public and accessible (free!) and often large and imposing in scale.
That has had real influence on the artists.
"I think more people want to get up on the street because they know someone will capture it and put it on Instagram," said Lois Stavsky, editor of the blog Street Art NYC, told Mic. 
Does catering to viewers' Instagrams and Facebook walls affect the actual art? Several artists told Mic that while the photogenic-ness of a work doesn't factor into its creation, it is a necessary consideration for marketing and publicity, much of which now happens over social media.
As for "like"-conscious viewers, Stavsky said, "There seems to be really serious competition... over who is going to photograph a particular artist, a kind of competition I never saw years ago. People not wanting to tell each other the locations of things because other people might get a better flick of it."
PhotogenicWalls takes a more generous approach, geotagging the photos "for your shooting convenience." After all, as designer Rebecca Minkoff put it, "Your #OOTD post is nothing without the right background." If we're going to showcase our style online, might as well showcase our art sense at the same time — with a picture that's worth a thousand likes.