Bill Cosby Ordered to Give Sworn Testimony in October Over Sexual Assault Charges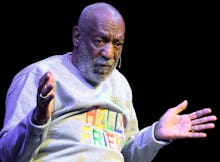 A California judge has ordered actor and comedian Bill Cosby to undergo a formal deposition in October in connection to charges of sexual misconduct. 
Attorney Gloria Allred, who is representing the accuser Judy Huth in a civil suit, confirmed the news to USA Today in a statement. "Mr. Cosby's deposition will take place on October 9 and our client's deposition will take place on October 15," she said.
Since allegations of sexual malfeasance resurfaced last year and again earlier this summer, Cosby has faced accusations from dozens of women alleging the former jello pudding salesman drugged or molested or raped them over the course of his decadeslong career. 
Cosby has never faced criminal charges due to statute of limitations laws and, barring a radical shift, is likely to never be held legally accountable for his crimes. 
Huth was a minor at the time the alleged crimes took place and therefore her case falls under California's stricter child abuse statutes. While criminal charges probably remain off the table, the window is still open for the civil suit she is filing.
"You get a longer amount of time under a child abuse statute because when someone harms or assaults them, they're not in a good position usually to take up for themselves or even to disclose," University of Illinois College of Law professor Robin Wilson told People magazine. "Sometimes it can be so damaging that they don't even know that they've been harmed legally."
Despite similar allegations from dozens of women spanning decades, Cosby has steadfastly declined to address the issue in public but has issued sweeping denials through his lawyers. The upcoming depositions are expected to be explosive after another deposition the actor took in 2005 was unsealed by a federal judge in which Cosby admitted to drugging a woman with quaaludes and to obtaining them specifically for that purpose.  
During the latter part of his career, Cosby became well-known as a public moralizer for black youth. Thanks in part to those efforts, he received the U.S. Presidential Medal of Freedom — the country's highest civilian honor — in 2002.