Here's the Biggest Way 'The Daily Show' Can Improve After Jon Stewart Steps Down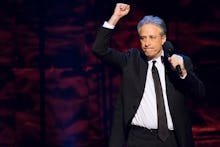 It didn't take long after Comedy Central announced that comedian Trevor Noah would replace Jon Stewart on The Daily Show for the backlash to begin. Insensitive tweets the up-and-coming performer previously sent had resurfaced, to which Noah later acknowledged the idiocy of those statements, plenty of fans remained skeptical of the choice. But a recent Vocativ analysis of The Daily Show's guests indicate there's one clear way in which Stewart's replacement can potentially clear his own name and undeniably improve the show in the process: by inviting far more diverse guests to the table.
Of the 20 most frequent guests to appear on the show since Stewart became its anchor in 1999, 75% were white men, Vocativ reports. These 15 guests include Denis Leary, Brian Williams, Will Ferrell, Paul Rudd, Ricky Gervais, Tom Brokaw, Bob Dole, John McCain, Bill O'Reilly, Richard Lewis, Reza Aslan, Adam Sandler, Ben Affleck, Mike Huckabee and Bill Clinton. A man of color — Fareed Zakaria — appeared more frequently than any other guest, but this hardly ameliorates the fact only two women (Maggie Gyllenhaal and Sarah Vowell, who is part Native American) and one a black man (Neil DeGrasse Tyson) joined the white men in this group. 
While these numbers are an improvement from previous reports — one 2010 analysis of a six-week period of the show found that 96% of guests on the show were white — it leaves plenty of room for improvement. 
These findings, Vocativ notes, bolster the claims of some of the show's previous employees that diversity was, at times, an issue off-camera. Wyatt Cenac, the only black writer on the show during the 2012 election cycle, faced resistance to his feedback about a segment concerning race, CNN recently reported. A damning 2010 Jezebel feature claimed the show had a serious "woman problem," noting that Samantha Bee was the only female correspondent significantly incorporated into the show up until that point, female staffers were told they were "lucky" to be hired, and the work environment felt like a "boys' club." In fact, to date, the show only employs four female writers, according to Think Progress, and IMDB lists two current female co-executive producers.
Of course, this lack of diversity on screen is not unique to The Daily Show, but one rampant throughout media. A 2015 Women's Media Center report found women represent only 27% of creators, writers, producers, executive producers, photography directors and editors of prime-time TV shows, and women were on camera only 32% of the time in evening broadcast news programs.
"Our goal was to find someone who brings something really exciting and new and different," Comedy Central president Michele Ganeless told the New York Times of the decision to replace Stewart with Noah in March.
Hopefully, Noah will live up to his new boss's expectations and set a new standard of inclusivity for the millions of viewers of one of America's most beloved shows. 
h/t Vocativ