"Back Together" Lyrics: Robin Thicke and Nicki Minaj Reunite in Raunchy New Single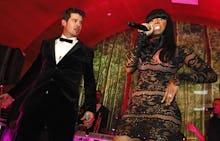 Robin Thicke and Nicki Minaj are "Back Together" after a six-year hiatus from their last musical collaboration, and they've teamed up for a raunchy new track released early Thursday morning. 
The single, "Back Together," comes years after Minaj's first feature on one of Thicke's tracks, "Shaking It For Daddy." There is a clear evolution in both performers' styles, and yet their sexually explicit chemistry is ever-apparent in this steamy new song.
Thicke starts the single with a few simple questions to his lady: "Didn't I rock with you all night?/ Wasn't it good enough? Don't lie/ Didn't you tell me that I blew your mind?/ Brought out the animal in me, nobody else can tame that beast/ Why did you have to go and say goodbye?" After a bit of crooning and punching out a catchy hook and chorus, Thicke starts the second with the impossibly suggestive line: "I wanna live between your legs/ Hear all the freaky things you said."
This isn't the first time we've heard Thicke mixing thoughts of a past love with a foul mouth. The singer was under fire for not only stealing the infamous "Blurred Lines" tune from Marvin Gaye, but also for essentially singing about rape, coincided by a music video full of mostly naked women.
His last album, titled Paula, featured songs like "Get Her Back," "Love Can Grow Back" and "Forever Love" in an attempt to reconcile with his ex-wife, Paula Patton. The new single comes as rumors are swirling the performer may be engaged to 20-year-old April Love Geary. Thicke shot back at those rumors while dropping his single around midnight early Thursday morning on Twitter:
Minaj finally steps into the single with fast raps and a mutually dirty tone, moaning over her verse at one point and alluding to presidential-hopeful Hillary Clinton in an overtly sexual fashion. "You know you miss this, right?/ M-I-S-S, miss this spot/ Used to call me Hillary cause I ride 'em (Rodham)." 
The rapper then destroys all of our childhoods by placing an unforgettable image in our heads of what used to be an innocent nanny from England: "I get more head than when they noddin'/ Kitty on fleek, it's poppin'/ I'm Mary Poppins." 
Minaj then throws a quick shout-out to her fiance and fellow rapper Meek Mill's "Levels" track, saying "Boy your times up, where'd you wind up?/ There's levels to this, you should have climbed up." Good to see the two are still repping each other despite Mill's recent beef with Minaj's good friend Drake. 
Fans will certainly attribute the steamy lyrics to Thicke's former relationship with Patton, who dated the "Blurred Lines" artist since the two were 14 years old until their divorce in March. "Back Together" focuses on one woman being the only one capable of taming Thicke, as the singer falsettos over a fast beat and pleads for this special someone to come back into his... for sex.
"Now all I wanna do is get you back, because girl you're still the best I ever had."
Check out the full set of lyrics here.