Jon Stewart Completely Eviscerates All the Eviscerating He's Been Doing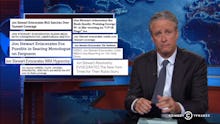 If there's one thing Jon Stewart developed a reputation for doing over 16 years helming The Daily Show on Comedy Central, it was utter destruction.
Whether he was eviscerating or nailing a subject, he left no stone unturned in the media's eyes until his targets were mere dust. Their headlines — and, it must be said, ours — sang epic songs of his triumphs over what he covered on the show.
The trend in headlines was noticed by Newsweek's Zach Schonfeld last year, but it made no difference. The calls of evisceration continued.
"We here at the show left no target un-disemboweled," Stewart said on his second-to-last show. To commemorate the occasion, he collected some of the times the media boldly declared he eviscerated his targets.
In a segment properly titled "The Daily Show: Destroyer of Worlds," Stewart went through each of his previous targets to figure out how worse off they are after his wars against them. But his evisceration didn't change much in the world, as Stewart comes to learn. The Islamic State group is still powerful. Race relations are still heated. Fox News is choosing which Republican presidential candidates get to debate.
Of course, Stewart has been influential in so many ways during his Daily Show tenure. He's just not been quite as destructive as the hyperbolic headlines made him out to be. 
So take heart as you prepare for your final show, Jon: You didn't destroy the world. The only thing you crushed was our hearts when you announced your departure. We'll miss your daily eviscerations, annihilations and perfect responses dearly.
Watch the full clip below.