US Presidential Election: How Top Candidates Have Been Trending in the Latest Polls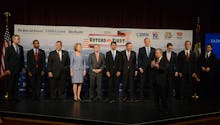 It's been a theatrical start to the 2015 presidential primary season. The dizzying number of Republican candidates entering the race has meant a packed debate stage and, despite having a consistent frontrunner, the GOP shows major opportunity for the ranks to change over the coming months. 
Democrats might have fewer contenders to consider, but they're becoming less loyal to their star player, former Secretary of State Hillary Clinton. 
Leading Republican Donald Trump has surprised many by rising to the top of the deck since he announced his candidacy in June. Many thought the real estate mogul and reality TV personality would make the same kind of cameo that he did during the 2012 presidential race, an appearance that raised a lot of eyebrows in the Republican party but that no one took too seriously. Just as quickly as he appeared that year, Trump fell off most everyone's radar. 
An unlikely Republican frontrunner 
This time around, Trump has been anything but an opening act. The controversial GOP candidate has become the frontrunner in a wide field, dominating at the polls over politicians like Wisconsin Gov. Scott Walker and former Florida Gov. Jeb Bush. He may have started at the bottom, but Trump has stayed at the top of the polls for the past month. 
It became evident Trump was the first choice among likely Republican voters in early July, when polling showed him with a slight lead over Bush, a longtime leading candidate for the nomination. Trump's popularity continued to climb, despite what many thought were campaign-ending gaffes. At 24% support among Republican voters in a survey published Tuesday, Trump now commands an 11-point lead over Bush. 
Bush has managed to stay on voters' minds, however, and has been the leading contender in his home state Florida. He was also among most well-funded GOP candidates, having raised a whopping $114 million between his campaign and super PAC, meaning his run for the White House is far from over. 
Kentucky Sen. Rand Paul also started the season off strong, polling in third place behind Trump and Bush in early July, but has since dipped below Wisconsin Gov. Scott Walker, who led the polls in June before Trump's announcement. Paul has also fallen behind Arkansas Gov. Mike Huckabee and was tied with Texas Sen. Ted Cruz and Florida Sen. Marco Rubio, according to recent a CBS News poll. 
Has Clinton met her match? 
On the Democratic side, Clinton has maintained a very strong lead over her fellow contenders, but her fan base has been steadily shrinking. A recent NBC News/Wall Street Journal poll showed that more Americans thought poorly of Clinton at the end of July than did in June. The controversy surrounding her use of a private email account and server during her time as secretary of state has shadowed Clinton into the primary season. 
When Vermont Sen. Bernie Sanders threw his hat in the ring in May, it landed with a resounding thud that shook the Clinton camp at its core. Sanders was instantly seen as a threat to Clinton and has continued to keep the former secretary of state on edge. A month ago, Clinton had a 60-point advantage over Sanders in polls. That margin has shrunk to 41, according to recent polling. 
Still, Clinton has managed to remain ahead of Sanders with likely Democratic voters, but many Democrats have been conflicted.