A Comprehensive Guide to Meryl Streep's Singing Before 'Ricki and the Flash'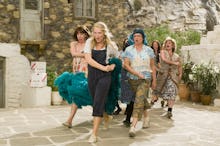 "Meryl Streep can sing!" critics and moviegoers say, with a hint of surprise, even in 2015. They forget that Hollywood's most acclaimed actress is also a talented vocalist with a musical theatre background. So while casting Streep as an aging rock star in Ricki and the Flash, currently in theaters, might have seemed like a strange choice at first, it's actually quite the opposite. 
Streep has sung in all genres of movies throughout her extensive filmography, from full-on musicals like Mamma Mia! to heavy dramas like Silkwood and the HBO miniseries Angels in America. In honor of Ricki and the Flash, we've collected up her entire cinematic history of singing.
Alice at the Palace (1982)
Streep had already won an Oscar by this point (for 1979's Kramer vs. Kramer) but that didn't stop her from starring as Alice in a musical version of Alice in Wonderland for the New York Shakespeare Festival. An imaginative adaptation (or just plain trippy) Streep plays Alice (yep, as a child) dancing and singing her way through Wonderland. 
It's strange by even Alice in Wonderland standards, and by the end of this musical you'll feel as if you fell down a rabbit hole yourself. Above is a clip of Streep singing about imaginary soup. Yes, you read that right. If you want more Alice, here's a number featuring Streep singing with the Cheshire Cat.
Silkwood (1983)
This depressing film about a nuclear plant whistleblower who dies under mysterious circumstances might not scream "jazz hands," but that doesn't stop Streep from getting some singing in. The scene above shows her comforting Dolly, played by Cher, by holding her and singing a lullaby called "Pretty Little Horses." There are many reasons to be jealous of Streep, but singing to Cher while holding her in her arms is near the top of the list.
If that wasn't sad enough, here's a video of Streep singing a somber rendition of "Amazing Grace" from the movie's final scenes. 
Ironweed (1987)
Streep plays a former singer in this Depression era-set film that co-stars Jack Nicholson. In one of the few uplifting scenes, Streep shows her love for Nicholson and the stage when she sings "He's Me Pal" at a bar. She receives a rave reception from the bar patrons, but it is short-lived when her dream is interrupted by the sad reality she's actually living. 
Nicholson and Streep were both nominated for Oscars for their roles, but Ironweed is often overlooked as just another depressing Streep movie from the 1980s. Luckily this number breaks up the sadness a bit.
Postcards From the Edge (1990)
The semi-autobiographical film written by Carrie Fisher (and based on her own book) features Streep as an actress and recovering drug addict who tries to stay sober by moving in with her Hollywood legend mother, played by Shirley MacLaine. The film ends with Streep singing "I'm Checkin' Out," a slow country ballad that erupts into a boot-stompin' song about starting over, written by children's book author Shel Silverstein.
Fun fact: Streep was supposed to sing this number at the 63rd Annual Academy Awards (where it was nominated for Best Song), but she was too pregnant to perform. Reba McEntire ended up stepping in at the last minute to sing the number for the ceremony. 
This wasn't the only number in the film. Streep also performs a cover of Ray Charles' "You Don't Know Me," which leads into MacLaine singing a Stephen Sondheim-penned number called "I'm Still Here." "I'm Checkin' Out" actually lost the Best Original Song Oscar that year to another Sondheim song: "Sooner or Later" from Dick Tracy.
Death Becomes Her (1992)
This dark comedy is usually remembered for its groundbreaking special effects and hilarious performances by Streep and Goldie Hawn, but people may have forgotten that the film opens with a full-on Broadway musical number. It's a narcissistic showstopper called, appropriately enough, "Me." 
This song is probably the biggest reason we want to see a Death Becomes Her musical someday.
Marvin's Room (1996)
Streep and Diane Keaton co-star as estranged sisters in this tearjerker. While she doesn't sing in the film itself, Streep does lend her vocals to the movie's theme song, "Two Little Sisters," in a performance with Carly Simon. It's pretty amazing to watch Streep and Simon, masters of their fields, serve recording studio realness. Even Robert De Niro can only watch in awe.
Angels in America (2003)
Streep earned an Emmy for playing multiple roles in Mike Nichols's six hour adaptation of Tony Kushner's Angels in America. The miniseries focuses on the AIDS crisis in New York; in the scene above, she plays the ghost of Ethel Rosenberg, who haunts closeted and bigoted New York attorney Ray Cohn (Al Pacino) as he lays in the hospital dying. 
While it's not the most uplifting scene, it shows that Streep can just comfort someone with a soft song at their hospital bedside. Kushner and Streep would would team up again three years later for Shakespeare in the Park's Mother Courage (in which she also sang).
A Prairie Home Companion (2006)
Streep and Lily Tomlin played sisters Rhonda and Yolanda Johnson in Robert Altman's ensemble piece about the long-running radio variety show recording its final broadcast. Streep sings multiple folk and country songs, which makes you believe that she could add a Country Music Association award to her crowded award shelf. Streep and Tomlin sing a duet of "My Minnesota Home" in the video above.
For those craving more country Streep, her excellent cover of "Gold Watch and Chain" from the same movie is also well worth the watch.
Mamma Mia! (2008)
Mamma Mia! is Streep's highest grossing film ever. It beat Titanic as the highest grossing movie of all time in the United Kingdom, only to be dethroned a year later by Avatar. Usually written off as a cheesy ABBA jukebox musical, Mamma Mia! is a treasure trove for Streep fans. 
As the lead singer of Donna and the Dynamos, Streep performs multiple classic songs throughout the film including "Super Trouper" and "The Winner Takes It All" (which she recorded in one take). Is it over the top? Yes. Does Streep wear a sequined one-piece bodysuit? Yes. Is there a more glorious and ridiculous Streep musical? No. 
If you haven't seen it, watching Streep sing the title track as she encounters a goat, contemplating her life choices while she belts on a rooftop in Greece, will help you understand exactly what you've been missing.
Into the Woods (2014)
What many consider one of the greatest Broadway musicals ever written, Stephen Sondheim's classic Into the Woods, finally gets the big-screen treatment. Bernadette Peters will always be the iconic Witch from the original Broadway production, but Streep gives the character new emotional depth with her Oscar-nominated performance. 
As seen in the Witch's climactic song, "Last Midnight," Streep can go big — but she handles somber moments equally well in "Stay With Me" or the cut original song "She'll Be Back." 
Ricki and the Flash (2015)
Streep's latest movie finds her behind the microphone yet again. Within Ricki and the Flash, she sings Lady Gaga, Pink and Dobie Gray, as well as an original tune called "Cold One." As an aging rocker, Streep's voice sounds as impressive as ever — a good sign we'll be hearing more from the vocalist inside her in the future.