Squamish Valley Music Festival 2015: Latest Lineup, Ticket Info and Schedule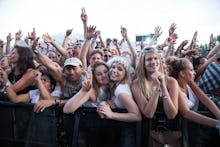 More than 125,000 people are expected to attend Squamish Valley Music Festival 2015 this weekend in British Columbia, Canada, for sure-to-be incredible performances from some of the biggest names in the music industry. 
Some major artists are headlining the event, which kicked off Thursday night, including Sam Smith, Chance the Rapper, Hot Chip, Drake, A$AP Rocky, Porter Robinson, Alabama Shakes and Kaskade, just to name a few.
Squamish Valley Music Festival posted a map of the entire event to their Facebook page for music fans traveling to the festival so they can better explore the world of music awaiting them:
Although the event is already in full swing, passes are still available through the event's official website. Passes for the full weekend are $325, while single-day passes run for about $150 (prices in Canadian dollars). 
The music festival is a traditional camping event, with bands starting off their performances between 2 p.m. and 3 p.m. each day. Headliner Sam Smith is taking the stage Friday at 9:45 p.m., while Toronto rapper Drake will headline the event's festivities Saturday at 9:45 p.m. on the same stage. Check out the full schedule here.
This is the festival's sixth year, and the camp grounds are offering only 5,000 camp spots to the 125,000 attendees, according to local news reports. Campers may be facing close quarters when relaxing in between performances — but isn't that the beauty of a festival like Squamish Valley, after all? It's a chance to meet and interact with other music fans while witnessing some of the most talked about performers taking the stage this festival season.