Chris Farley as the Voice of Shrek Is Beautiful and Heartbreaking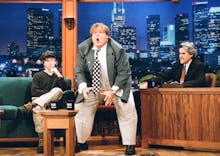 Before Chris Farley passed away in 1997, the Saturday Night Live star and comic had been transitioning to the silver screen with a growing film resume. Almost included among his movie roles, apparently, was that of Shrek in the popular animated film of the same name. 
Voice-overs of Farley's work as Shrek right before his death resurfaced through Reddit early Thursday morning, when a user uploaded a storyboard sequence of the film with voice-overs from both Farley and Eddie Murphy, who played the donkey. 
Take a listen below:
Vulture reports Farley had been working on the first installment of Shrek, alongside Murphy, before he passed away from a drug overdose in 1997. His brother, Kevin Farley, tells Yahoo News: "He did 99% of the film and then passed away, so they had to go get Meyers, and Mike did the rest." 
However, there are some noticeable differences between the tone and attitude Farley portrays as Shrek and the version Mike Meyers created for the film series. "Originally, the Shrek character was a little bit more like Chris — a humble, bumbling, innocent guy," Farley said.