Meet Trevor Noah, Jon Stewart's 'Daily Show' Replacement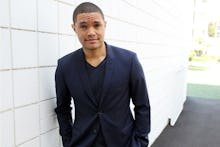 He's amassed millions of online followers, been crowned Comic of the Year, is adored by fans the world over and he's hosting The Daily Show... but his name's not Jon Stewart. 
He's Trevor Noah, the 31-year-old South African comedian slated to take over Stewart's role as leader of Comedy Central's The Daily Show. Stewart's final night is set for Thursday, and it's bound to be a legendary and emotional adieu. 
The network will premiere The Daily Show with Trevor Noah Sept. 28. What do we know about the man replacing Stewart?
Growing up under apartheid 
Noah was born in Johannesburg in 1984. The biracial comedian (his mother was black and his father was white) grew up under South African apartheid, which was very difficult but also became a source of much of his material as a comedian. 
"If you look at it, the history of comedy has always been strongest among the nations who have been persecuted the most," Noah told NPR in a 2012 interview. "As you learned to find joy in your pain, you know, that's where the music comes from. That's where the culture comes from. That's literally — with the oppression will come the laughter."
Making moves in the U.S.
Noah moved to the United States in 2011 and quickly began making his rounds on the late night talk show circuit. In January 2012, he appeared on The Tonight Show as its first South African stand-up comic. He became the first South African comedian on Late Show with David Letterman in May 2013. 
Noah joined the Daily Show team in December as a correspondent. The network announced in March he'd be taking over the show.
"Trevor Noah is an enormous talent. He has an insightful and unique point of view and, most importantly, is wickedly funny," Comedy Central president Michele Ganeless said in a statement. "For the next host of The Daily Show, we set out to find a fresh voice who can speak to our audience with a keen take on the events of the day, and we found that in Trevor. He has a huge international following and is poised to explode here in America, and we are thrilled to have him join Comedy Central."
A comedian not without controversy
Not long after Comedy Central announced it was taking on Noah, some of his not-so-flattering past jokes poking fun at Jewish people, women and lesbians surfaced online. Social media users blasted the comedian for what they said were racist, sexist and not very funny jokes. 
Noah, however, defended his comedy. "To reduce my views to a handful of jokes that didn't land is not a true reflection of my character, nor my evolution as a comedian," the comedian tweeted in response to backlash he received over the remarks. 
Noah later said he was an "idiot" for having made the jokes. 
"You show me half my jokes from even two years ago, three years ago — I hate them," Noah told GQ in July. "Because you see, like, a young version of yourself. You're like, 'Why would you say that? You idiot! That makes no sense.' Or, 'That's just stupid.' Or, 'Ahh, I can't believe I said that about a woman.' You should not like what you did back then, because that shows that you've grown. If you're still doing it, that's a scarier place to be."
Not another Jon Stewart 
One thing to keep in mind when Noah takes the helm: He is not, and never will be, Jon Stewart. The two comedians have very different styles of humor, and Noah himself doesn't want to be thought of as another Stewart. "No one can replace Jon Stewart," Noah said back in March. "But together with the amazing team at The Daily Show, we will continue to make this the best damn news show!"
On his politics, Noah has said he's right in line with Stewart's left-leaning views. "One thing we both share: We are both progressives," Noah told the Associated Press in March shortly after Comedy Central announced his appointment. "Obviously where you're from may inform a lot of your decisions.  ... I'll bring something different because I am different, but because it's a team, it'll be the same as well."