Watch Full Live Coverage of the Fox New GOP Debate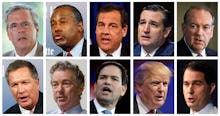 On Thursday night, Fox News is hosting the first of many debates for the 2016 GOP presidential ticket. Taking place in Cleveland at the Quicken Loans Arena, Fox has chosen 10 candidates to take the stage for the season's inaugural debate.
They are: real estate magnate Donald Trump, former Florida Gov. Jeb Bush, Wisconsin Gov. Scott Walker, Florida Sen. Marco Rubio, Kentucky Sen. Rand Paul, Texas Sen. Ted Cruz, former Arkansas Gov. Mike Huckabee, neurosurgeon Dr. Ben Carson, New Jersey Gov. Chris Christie and Ohio Gov. John Kasich.
Full coverage of the debate will start live at 9:00 p.m. EDT and run roughly two hours. You can watch a live stream provided by Fox here (cable login required).