"Happy Hour Debate" for GOP Is Tonight — Here's What You Should Know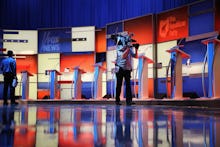 Republican presidential candidates who didn't make the Fox News prime-time debate cut will square off for a special pre-show debate, aptly dubbed the "happy hour debate," prior to Thursday night's main event. 
The early debate is scheduled for 5 p.m. EDT, four hours before the main presidential debate, and last about an hour. It will air on Fox News and be hosted by America's Newsroom co-anchors Bill Hemmer and Martha MacCallum. 
Candidates expected to take part in the second-tier debate are former Hewlett-Packard CEO Carly Fiorina, former Virginia Gov. Jim Gilmore, South Carolina Sen. Lindsey Graham, Louisiana Gov. Bobby Jindal, former New York Gov. George Pataki, former Texas Gov. Rick Perry and former Pennsylvania Sen. Rick Santorum.
"We're calling it the happy hour debate," Republican consultant Brett O'Donnell, who's helping Graham prepare for the debate, told The Hill. "It's going to be more substantive and give you a real opportunity to show you're ready to be president, as opposed to just ready to take on Donald Trump."
Candidates taking part in the happy hour debate had mixed feelings about being left out of the main event. While Perry tweeted and Fiorina said that they looked forward to the pre-debate debate, Santorum communications manager Matt Beynon said excluding seven presidential candidates based on polling seven months ahead of the actual primary elections was "preposterous."
"My sense is that all of them still see this as an enormous opportunity," Fox's Hemmer told Crain's Cleveland Business. "There are some who are fairly well known, and others who are not recognizable. There's an audience that's hungry to learn who they are and what they represent."
The first major debate of the presidential primary races is happening Thursday night in Cleveland. Of the 17 Republican candidates in the GOP field, 10 are expected to take the Fox News debate stage. They are real estate magnate Donald Trump, former Florida Gov. Jeb Bush, Wisconsin Gov. Scott Walker, Florida Sen. Marco Rubio, Kentucky Sen. Rand Paul, Texas Sen. Ted Cruz, former Arkansas Gov. Mike Huckabee, neurosurgeon Dr. Ben Carson, New Jersey Gov. Chris Christie and Ohio Gov. John Kasich.
Taking center stage will be Trump, who's been leading in national polls. He said he plans to play nice. "I don't want to attack anybody," Trump said on Good Morning America. "Maybe I'll be attacked and maybe not. I'd rather just discuss the issues, but certainly I don't want to attack."