Ryan Adams Is Covering Taylor Swift's Entire '1989' in the Style of the Smiths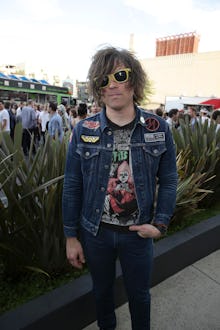 On Wednesday night, singer-songwriter Ryan Adams revealed he's working on a revolution in popular music. With a series of innocent Instagram posts, he announced that his next project will be recording covers of every song off Taylor Swift's blockbuster smash 1989. But to make it interesting, he'll be doing so in the style of '80s indie alternative band the Smiths. "Guaranteed saddest version of 'Welcome to New York' ever — or your tears back," Adams writes, chronicling the first night of recordings on Instagram. He also released a snippet of the album's opening track, "Welcome to New York." 
It sounds like it's going to be a raucous good time, and no one is more amped than Swift herself.
Swift is apparently a huge Adams fan. When word of Adams' plans made its way to Swift, she got pretty excited, to say the least. Responding to a tweet from Rolling Stone Indonesia writer Hasief Ardiasyah, she demanded to know if the rumors were true.
Adams was quick to respond.
This isn't the first time Adams has messed with covers. Back in 2002, Adams told NME that he covered the entirety of the Strokes' garage classic Is This It? in blues style. He later clarified for Rolling Stone that it was a little more casual than NME made it out to be. He essentially recorded the project to keep himself occupied while he recovered from getting a tooth pulled.
"I was bored, and I needed something to do, so I was like, 'I'm just gonna learn someone else's record for fun.' And I was talking to the NME, and maybe it was the Vicodin, but I mentioned that I'd learned the Strokes record, and they made a really big deal out of it," he told Rolling Stone, adding that his cuts were heavy on mandolin and banjo and ultimately "too weird" to release. 
Adams has also released covers of Oasis' "Wonderwall" in 2004, which Entertainment Weekly asserts is one of his most well-known tracks, and Foreigner's power ballad "I Want to Know What Love Is" on NPR's World Cafe last September. 
It's clear Adams' knows how to take a track and make it his own. We'll see what he can do with with Swift's "Blank Space" and "Style," the lyric sheets of which he posted on Instagram. So far he hasn't discussed any of the official details on how, when or if he plans to release the album. But judging by Swift's enthusiastic and encouraging response, it will likely see the light of day. Check out everything Adams has shared about the process so far on Instagram.
h/t Time