Vanderbilt Football Team Tweets "We Don't Need Your Permission" Amid Rape Controversy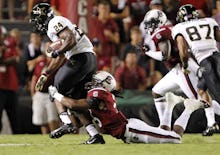 The Vanderbilt University football team faced harsh criticism Thursday after a tweet meant to rile up its fan base was inadvertently tied to a recent rape case involving four of the team's players. 
A tweet from the team's official Twitter on Thursday read, "We are relentless, tough and intelligent, and..." and included a photo with the caption, "We don't need your permission!" 
On its own, the tweet would appear to be nothing more than a way to rally support from the football team's followers. However, in 2013, four former Vanderbilt football players were charged with five counts of aggravated rape and two counts of aggravated sexual battery stemming from an incident in June of that year in which a young female college student was videotaped being raped. 
The original tweet has since been deleted, but the damage was already done as many on social media took the football team's slogan as a message disregarding consent.
"That was the worst advertising tag-line in sports history," one Twitter user pointed out. 
In context, the slogan makes a little bit more sense. It came from a tweet Vanderbilt University head football coach Derek Mason sent out two weeks earlier. "Back in Nashville and the work never stops," the coach tweeted. "This team wants, what some say it can't obtain. Sorry...We don't need your permission!" 
But given the context, it's a much different story. The Vanderbilt football team rape scandal was one of the highest profile cases of campus rape in the country. In January, 19 months after the assault occurred, a jury found two of the players, Cory Batey and Brandon Vandenburg, guilty of rape, among other charges. However, a judge declared their case a mistrial in June based on concerns about the jury foreman. 
The Vanderbilt football team tweeted an apology Thursday. 
One in four college women will be sexual assaulted during her college career, according to the Cleveland Rape Crisis Center. "Men are more likely than women to assume that a woman who drinks alcohol on a date is a willing sex partner," the center reported.