Dr. Dre Will Donate the Royalties From His New Album to Build an Arts Center in Compton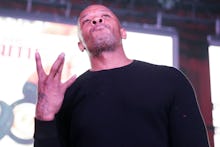 The Doctor is back on top.
After years slander and disappointment surrounding his infamously delayed Detox, the narrative surrounding Dr. Dre changed this week when Ice Cube announced Dre will release an entirely different album inspired by the upcoming Straight Outta Compton film. 
The album, called Compton, is Dre's first in 16 years and will be available on the Internet this Friday. On Thursday, the G-Funk legend himself called into Zane Lowe's Beats 1 radio show to let fans know what they could expect. 
In addition to discussing the collaborators who helped shape the album, Dre discussed what he plans to do with his earnings. He promised to donate the royalties to build a performing arts and entertainment facility for children in Compton, California.
Here's what we know: This plan has been on Dre's mind for a while. "I've been wanting to do something special for the kids of Compton for some time now," Dre told Lowe on Apple Music's streaming radio service Beats 1. He reportedly reached out to Compton Mayor Aja Brown to talk about what he had in mind. As it turns out, Brown was already working on trying to build a performing arts center. "And I said, 'Boom. This is what we should do.'"
Dre doesn't need the money himself. He consistently ranks on Forbes' "Richest Rappers" list. And after selling Beats Music in 2014 for $3 billion, earning himself the single-largest payday in hip-hop history, Forbes measured his worth at $700 million. Compton, on the other hand — despite the visibility it's gotten in Dre's and Kendrick Lamar's music — could likely put the money to good use. "I feel like it's the right thing," Dre continued. "And I just hope everyone really appreciates the hard work I put into this album." 
The music sounds like it's going to be fire as well. Dre has lined up a truly impressive group of artists. Some come from Dre's past, including Xzibit and Eminem, who Dre helped introduce to the world on Dre's 2001, and Snoop Dogg, who helped make The Chronic the masterpiece it remains. Others he'll be introducing to the world for the first time.
"The new artists man, I've got King Mez and Justus, these guys just came in and grinded with me throughout the entire project," Dre told Lowe. "In fact, most of the lyrics are written by us three."
The project also features at least four credited contributions from up-and-coming LA producer and rapper Anderson .Paak, according to the Fader. They dug his catalog to reveal a range of styles, from J Dilla break beat styles to hard-hitting trap styles that are popular right now. Dre's Compton may prove to be a wildly unpredictable ride. 
Further details on the album and the proposed arts and entertainment center in Compton are scant. But the album will be debuting Thursday at 6 p.m. PDT via a livestream on Apple Music's Beats 1, so at least we'll finally get to hear how Dre's styles have aged. His only hope is that people will stop asking for Detox, as he told Zane Lowe. The philanthropy should sweeten the listen, but the donation's impact depends on how badly people want to come back for more. We'll see if Dre has recorded enough of a classic to change the future of his hometown.