Rick Perry's "Ronald Raven" Slip Was the Only Memorable Moment From Early GOP Debate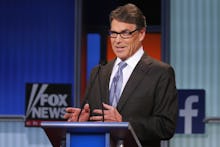 In front of a scarce audience four hours before the main event, seven low-polling GOP candidates for president took the stage for a pre-debate debate Thursday night. During the event, former Texas Gov. Rick Perry appeared to fumble his words when referencing former President Ronald Reagan, accidentally saying "Ronald Raven." 
Social media users quickly pounced on the apparent blunder. Some added images of Reagan's head on ravens' bodies. 
Perry's campaign spokeswoman Lucy Nashed defended the candidate following the debate, saying he "clearly said Ronald Reagan," according to ABC News. 
Here's the moment Twitter users were talking about: 
The seven candidates who took part in the "happy hour debate" were former Hewlett-Packard CEO Carly Fiorina, former Virginia Gov. Jim Gilmore, South Carolina Sen. Lindsey Graham, Louisiana Gov. Bobby Jindal, former New York Gov. George Pataki, Perry and former Pennsylvania Sen. Rick Santorum.
Only a handful of people attended the warmup to Thursday night's much-anticipated first Republican debate, scheduled for 9 p.m. Eastern on Fox News. 
Aug. 6, 2015 8:20 p.m. EDT: This story has been updated to include a response from Perry's campaign spokeswoman.