Donald Trump Refuses to Rule Out Third-Party Run at GOP Debate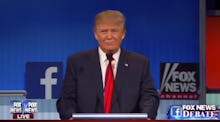 "I will not make the pledge at this time."
That was Republican candidate Donald Trump's blunt answer to the question of whether he would promise not to run as a third-party candidate if he did not receive the Republican nomination.
It was the first question asked by the Fox News moderators and directed toward the full group of the party's 10 leading candidates. Standing at center stage, Trump was the only man to raise his hand. The audience appeared sharply divided over the position with a mix of jeers and applause emanating from the crowd.   
Trump, however, was adamant that he did not want it to come to that "I want to run as the Republican nominee," he said. "If I am the nominee, I can pledge I will not run as an independent," he added in jest.
Trump currently leads numerous state and national polls.