Rand Paul and Chris Christie Actually Had a Real Debate About Civil Liberties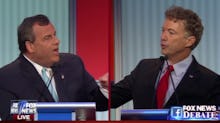 New Jersey Gov. Chris Christie and Kentucky Sen. Rand Paul sparred on the GOP presidential primary debate stage over terrorism-related surveillance and civil rights.
Christie told moderator Megyn Kelly he stood by comments suggesting Paul should be brought to testify before Congress for his opposition to National Security Agency data gathering. Paul said he was "proud of standing for the Bill of Rights, and I will continue to stand for the Bill of Rights."
"That's a completely ridiculous answer. I want to collect more records from terrorists and less records from other people. How are you supposed to know, Megyn?" Christie retorted, saying Paul was full of "hot air."
During the exchange, Christie told Paul that as U.S. attorney for the District of New Jersey, he had personally prosecuted Islamic terrorists and sent them to prison. Paul accused Christie of fundamentally misunderstanding civil liberties and "putting the country at risk."
Paul brought up the time Christie was photographed hugging President Obama in the wake of Hurricane Sandy. Christie responded by saying he only remembered the hugs he received in the wake of the September 11 terrorist attacks. Paul, in turn, rolled his eyes.
Watch the video below: