4 Years After Booing a Gay Soldier, a Republican Debate Crowd Cheers LGBT Acceptance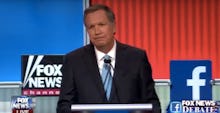 During a Republican debate four years ago, Army Capt. Stephen Hill, a gay U.S. soldier, was jeered by the audience after he asked about candidates' views on repealing the military's ban on gay soldiers known as "Don't Ask, Don't Tell."
The infamous moment, however, was a complete 180-degree contrast during the primetime 2016 Republican primary debate Thursday night in Cleveland. Roughly 90 minutes in, Fox News moderators raised the inevitable social lightning rod of same-sex marriage. The highly contentious issue fell to the debate's 10th seeded participant, Ohio Gov. John Kasich.  
When Kasich said he would he love his daughters whether they were lesbian or not, the audience went wild. 
"Because somebody doesn't think the way I do doesn't mean that I can't care about them or I can't love them," said Kasich. "So if one of my daughters happened to be that, of course I would love them and would accept them."
Overall, Kasich handled the question deftly, telling his audience that while he was "old fashioned" and a believer in "traditional marriage," he accepted the U.S. Supreme Court's ruling from earlier this year, making marriage equality legal in all 50 states. He also told the crowd that he recently attended the same-sex wedding of a friend.
The popular Ohio was also likely given a boost by a largely friendly home-state audience.