Jon Stewart Reunited His Most Beloved Correspondents for One Final Field Segment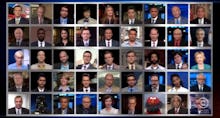 If you're going out after 16 years as one of the most beloved late night talk show hosts in America, best to go out with a true bang.
In an uninterrupted, 27-minute-long segment starting his final show Thursday, Stewart reunited with 30 of his most beloved correspondents for one final field segment. What at first appeared to just be a joke about Thursday night's Republican debate with his most recent correspondents — Jordan Klepper, Al Madrigal, Jessica Williams, Hasan Minhaj and Aasif Mandvi — quickly ballooned into a giant celebration of Stewart.
Steve Carell, Kristen Schaal, Samantha Bee and Beth Littleford joined the existing crew, followed by contributors Lewis Black and John Hodgman:
Old-time correspondents Vance DeGeneres and Mo Rocca were the first signal that this was growing into something quite impressive:
Current Veep stars Dan Bakkedahl and Matt Walsh took questions from Stewart from their new show's press room:
While Jason Jones, Bassem Youssef and Saturday Night Live cast member Michael Che made appearances away from the studio:
Brothers Rob and Nate Corddry appeared together:
Josh Gad, Larry Wilmore, Olivia Munn, Rob Riggle and Ed Helms, each of whom has enjoyed major success on TV and film, all appeared in studio as well:
Trevor Noah made an appearance to start measuring his new studio space:
Former Daily Show host Craig Kilborn even stopped by to give him a farewell:
Intriguingly, former correspondent Wyatt Cenac also appeared — jokingly from across the street. Nodding to recent controversy stemming from Cenac's statements about his and Stewart's tense relationship, the two shared a quiet, tense moment:
Even HBO convert John Oliver made an appearance to share some memories. Maybe too many memories:
"I just wanna thank everybody who lent their talents to this program," Stewart said, clearly already getting emotional. But then Stephen Colbert appeared to give one incredible, unscripted farewell:
The most impressive thing about this roster of 30 correspondents is exactly how successful so many of them are. The Daily Show during Stewart's tenure fully replaced Saturday Night Live as the greatest incubator for new comedy performers. These women and men have grown far beyond their roots as correspondents — and will continue to grow.
Watch the full segment — in two parts — below.