Watch Jon Stewart's "Bullshit Is Everywhere" Speech From the 'Daily Show' Finale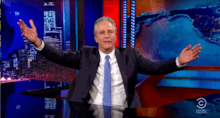 On Jon Stewart's final night helming The Daily Show, the 16-year host gave a long and heartfelt tribute to one of his favorite topics: bullshit.
In his last monologue on the show, Stewart cautioned his viewers that "bullshit is everywhere," and told them there were three kinds of it: "making bad things sound like good things," "hiding the bad things under mountains of bullshit" and "finally... the bullshit of infinite possibility," where "bullshitters cover their unwillingness to act under the guise of unending inquiry."
It was a fitting sendoff for Stewart, who has led The Daily Show's good fight in fighting cultural, political and media bullshit for so long, and an apt manifesto for his tenure at the head of the show.
New York Times culture reporter Dave Itzkoff provided a transcript of the speech:
Watch the video below: