Dr. Dre's First Record in 16 Years, 'Compton,' Is Here — And It's Pretty Dope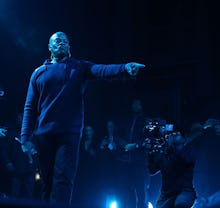 While much of America was knocking back shots every time Trump or one of the other Republican debate candidates made the claim they were going to "take America back," another American icon was making inroads of his own. Last night, at 6:00 p.m. PDT, Dr. Dre debuted his first album in 16 years on Apple Music's Beats 1 radio. Named after his hometown, Compton, California, Dre claims the album was inspired by working on the upcoming NWA film, Straight Outta Compton.
He's called it his "grand finale" on Beats 1 radio show, The Pharmacy. And from start to finish, the album feels suitably epic. It may help turn that years-long disappointing ellipses of a saga that was Detox into a full stop. 
This is the doctor's last stand.
The legacy of a legend: Dr. Dre thought at one point he was going to end his career without making another album. But after he abandoned Detox, as he discussed with Zane Lowe on Beats 1 in a breakdown of Compton after it aired, Dre found inspiration filming the NWA biopic. He recorded a few songs and started to feel the old creative surge returning.
"I felt a [great album] coming. I know that feeling after being in it for so long," Dre told Lowe, according to Rolling Stone. "So I just said, 'I'm going for it' and really started blacking out in the studio." 
He gathered together "his friends," as he described them in a Beats 1 radio interview Thursday. But the crew is more a list of West Coast rap's pantheon of old gods. All his accompanying MCs, old (Snoop Dogg, Ice Cube, Eminem, Xzibit) and new (Kendrick Lamar, BJ the Chicago Kid, Justus), look back at the West Coast's gangsta rap heyday, musing on the same themes of inner city violence, police brutality and the value of street royalty. 
Dre, never one to gush, even gets personal on the track "Talking to My Diary." He reflects on his rise from being a starving artist to being a NASDAQ threat, and stews over the death of Eazy E, whom Dre beefed with throughout the latter half of the MC's life. "I know Eazy can see me now, looking down through the clouds," Dre spits. "And regardless, I know my nigga still proud."
The album does have its missteps. It's got plenty of wanton violence, including an extended skit about killing and burying a young woman in the woods on "Loose Cannons," and a 2001-era Eminem spitting "I even make the bitches I rape cum." For better or for worse, this is part of the legacy Dr. Dre introduced to rap. Though perhaps with this finale, that chapter may start to close.
"I want this album to be inspiring. I want it to be motivational. So that was the foundation throughout the entire record," Dre told Lowe on Beats 1. He's taken some good steps to making sure that happens. Dre will be donating all the royalty money the album earns to help build a performing arts center in Compton. For everyone else, it should be motivating to see how inspiration can strike at any time, at any stage in one's life. If one is bold enough to chase it, like Dre was, they can build something remarkable.