Demi Lovato's Response to People Censoring Her Side-Boob Is Sex Positivity at Its Best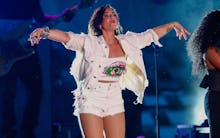 Demi Lovato isn't trying to #FreeTheNipple right now — girlfriend just wants to free a little side-boob.
After learning of the recent decisions by some retailers to censor the "sexual" covers of Cosmopolitan by placing them behind "pocket shields," Lovato (the magazine's September cover girl) decided to respond on her Instagram account.
"What these individuals who are protesting don't understand is that for the first time in a long time I feel incredibly EMPOWERED and the most BEAUTIFUL I've ever felt on this magazine," she wrote in a post captioned with the hashtag #unwrapmycosmo. "It's so liberating to be able to show the world how confident a woman can be once she learns to love herself." She goes on to stress the importance of "showing women there's NOTHING WRONG with embracing their bodies and sexuality." 
In a culture where women are still routinely shamed for their sexuality, Lovato's body- and sex-positive message reminds us how this type of censorship is symptomatic of a wider double standard policing women's bodies. After all, no one is petitioning for the shirtless hunks of Men's Health to be censored like a smut rag — and those dudes are showing off a hell of a lot more than a little side-boob.
Check out Lovato's full post below:
h/t Cosmopolitan