2015 GOP Debate Winners, Losers, Recap and Biggest Moments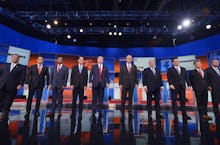 The first debate of the presidential primaries took place Thursday night in Cleveland, and it was a touch-and-go start to the election season. 
The moderators, Fox anchors Chris Wallace, Bret Baier and Megyn Kelly, shone a spotlight on the candidates' biggest blemishes, including real estate mogul Donald Trump's history of bankruptcy and Texas Sen. Ted Cruz once referring to Senate Majority Leader Mitch McConnell of Kentucky as a "liar." Candidates fielded questions on everything from abortion to gay rights, with some startling revelations. 
The night wasn't without its greatest hits. Here are the first GOP debate's winners, losers and biggest moments. 
The winners
Marco Rubio: "Winner" can mean a lot of things, but in a debate, it sometimes means the person who kept the lowest profile, according to New York Times writer Nate Cohn. Perhaps the debate's top performer was Florida Sen. Marco Rubio, for making voters doubt former Florida Gov. Jeb Bush, according to Cohn.
"A weaker Mr. Bush probably benefits Mr. Rubio as much as anyone, and if Mr. Bush raised questions about whether he would be a great general election candidate, then Mr. Rubio added yet more reason to believe he could be a good one," Cohn writes. 
John Kasich: Some analysts said Ohio Gov. John Kasich held his own. "While sticking to conservative principles, he gave voice to commonsense Midwestern values, as well as a moral commitment to Americans living in the shadows," writes CNN's David Gergen. "In effect, he tapped into some of the same anger that Trump has understood, but turned it in a warm, positive direction."
Chris Christie: Then there was New Jersey Gov. Chris Christie, who's been low in the polls but had a strong night. "[Christie] was able to capitalize on his everyman persona Thursday night — speaking in detail, delivering his responses with passion, and picking his fights without letting his temper get the better of him," according to the Atlantic. 
Megyn Kelly: The final winner wasn't a candidate at all. Kelly received widespread praise for taking Trump to task over calling women "fat pigs" and "dogs," among other disparaging names. Some even posit she could be our new feminist hero.
The losers
Donald Trump: It would be hard not to include Trump in the losers category. The former Apprentice host received some of the toughest questions of the night, and didn't exactly respond with decorum or even coherence. 
Jeb Bush: Bush also underperformed, according to Dan Pfeiffer, former senior adviser to President Barack Obama. "After several bad weeks, Jeb Bush could really have used a good night. He didn't have it," he writes for CNN. 
As CNN analyst Jeremy Diamond puts it, "Bush certainly didn't prove himself as the unequivocal frontrunner that many in the Republican establishment once believed him to be."
Scott Walker: Walker was another lackluster performer, according to National Review's Jonah Goldberg. "He didn't embarrass himself ... but he seemed to shrink over the course of the night," he writes for Politico. 
The rest
Ben Carson: While he didn't have a viral outburst or fiery feud to make his presence on the debate stage memorable, retired neurosurgeon Dr. Ben Carson may have been the night's big social media success story. 
His moments in the limelight were overshadowed by other, more outrageous acts, but social media users took note of Carson. The candidate grew his followings on Facebook, Instagram and Twitter more than any other candidate, and had the two biggest Facebook posts of any contender, online content tracking company CrowdTangle told Mic over email.
Mike Huckabee: Former Arkansas Gov. Mike Huckabee stood out on the debate stage for his comments about abortion. The candidate claimed he could use the Fifth and 14th Amendments to outlaw abortion in the U.S., a minority belief among some conservative legal scholars, according to the Huffington Post. 
Biggest moments
Trump on a third-party candidacy: The first noteworthy moment of the night came right at the beginning of the debate, when moderators asked the candidates to swear they would rule out running as a third-party candidate should they lose the Republican nomination. Trump raised his hand. 
"I will not make the pledge at this time," Trump said. 
The Christie-Paul showdown: Another major moment happened between Christie and Kentucky Sen. Rand Paul, who went head-to-head over government surveillance. The two sparred over a question about the National Security Agency tapping Americans' phones as part of its counterterrorism measures. Paul has said he's firmly against NSA "spying."
Christie defended his suggestion that, should another terrorist attack occur on U.S. soil, Paul should have to testify before Congress for opposing the agency's data gathering.
Paul retorted that he was "proud of standing for the Bill of Rights, and I will continue to stand for the Bill of Rights."
Kasich's response to a gay marriage question: Ohio's governor drew loud cheers from the Republican audience when he suggested he would have no problem accepting a child who was gay or lesbian. 
"Because somebody doesn't think the way I do doesn't mean that I can't care about them or I can't love them," Kasich said. "So if one of my daughters happened to be that, of course I would love them and would accept them." He did, however, reiterate his belief in "traditional marriage."