Donald Trump Megyn Kelly Feud: Fox News Host a "Bimbo," Candidate Says on Twitter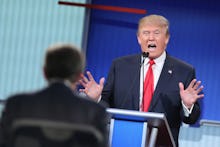 Presidential hopeful Donald Trump went into overdrive on Twitter in the early Friday morning hours after the first Republican presidential debate wrapped up in Cleveland Thursday night. 
His target? Fox News commentator and debate moderator Megyn Kelly. 
Early on in the debate, Kelly squared off with Trump over past derogatory remarks he made about women, listing all the names the businessman has called women over the years, including "'fat pigs,' 'dogs,' 'slobs' and 'disgusting animals.'"
"Only Rosie O'Donnell," Trump replied. 
Trump then defended his remarks by insinuating that the country had become too sensitive. 
But after the debate, the candidate was none too pleased for being targeted in front of millions of TV viewers. Between about 2:30 a.m. and 4:30 a.m. EDT, Trump tweeted and retweeted more than 30 times about Kelly and the debate. Among his tweets and retweets was one referring to Kelly as a "bimbo." 
In the lead-up to Kelly and Trump's exchange during the debate, Kelly had said, "Your Twitter account has several disparaging comments about women's looks." 
Trump has dominated presidential polls leading up to the race, beating out his fellow 16 GOP contenders (Fox News picked only 10 to participate in the main debate) as leader of the Republican primary field. He talked the most of any candidate during Thursday night's debate. 
Watch the entire moment between Trump and Kelly below.