This Photo of Jon Stewart Leaving 'The Daily Show' Will Make You Miss Him Already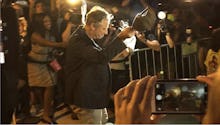 On Thursday night, Jon Stewart, joined by dozens of his friends and former correspondents, wrapped up his last taping of The Daily Show. It was an emotional moment with heartfelt tributes and final reflections. But after the taping of the hour-long finale, two photos quickly went viral on social media.
The first, taken by a fan as Stewart left the set, shows a host mobbed by fans, thanking his well-wishers. With his shoulders slightly hunched and holding his hat to the air, Stewart takes a last, small bow.
At an afterparty, comedian Mo Rocca, a correspondent from the show's early days, posted another image showing a serious Stewart clutching the shoulder of his replacement, Trevor Noah. We don't know what they're discussing, but the image encapsulates the changing of the guard and the end of the Stewart era. 
Across the Internet, the tributes have poured in from celebrities, fans, the New York Times and even Arby's:
Noah will host his first Daily Show on Sept. 28. Stewart has granted no interviews since he announced his planned departure, and it is not clear what he'll do next.