These Badass Young Women Are Showing the World What "Muslim Style" Looks Like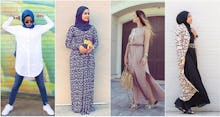 When Amirah Aulaqi walks down the streets of New York City, everyone turns and stares. 
Amirah dresses in a hijab (Muslim headscarf) and long, flowy garments. But the looks and questions she receives aren't the ones you might think — as the CEO and designer of Amirah Couture, Amirah gets questions about where others can get a hold of clothes like hers.
The market for Muslim fashion, often synonymous with the "modest fashion" market, is no small fry. Although there are smaller markets for Orthodox Jews and Christians, Muslims have huge buying potential in the modest fashion market. Hundreds of thousands of enthralled social media followers obsess over stylish women like Amirah, and even more are shopping to get the look. With roughly 1.6 billion Muslims worldwide, 5.7 million of whom live in the United States, research firm Dinar Standard estimates the Muslim consumer dollar in the U.S. translates into roughly $98 billion of buying power.
That's a formidable market, but it's not taken seriously or is truly understood by brands and designers outside of the Muslim community. It should be.
Modest doesn't mean frumpy: Muslims may constitute a massive community, but dressing traditionally, according to the religious traditions of Islam, isn't easily accomplished by shopping at stores like Zara and H&M. Just ask Ibtihaj Muhammad, the 29-year-old who broke barriers when she became the first Muslim woman to represent the U.S. in international fencing competitions. 
Ibtihaj struggled to find affordable modest clothing made in America, so she took matters into her own hands and founded Louella by Ibtihaj Muhammad in 2014.
"Muslim women are tired of having to go to a store and buy four different items to layer for one outfit," Ibtihaj told Mic. "We want clothing that is not only modest, but fashion-forward at an affordable price."
Saufeeya Goodson, a fashion blogger who grew up in Dubai, conveyed similar aggravation. "In the world we live in today, our society encourages women to express themselves however they like. However, this doesn't apply to the Muslim women that decide to dress modestly," she told Mic. Contrary to common thought, the majority of Muslim women appreciate and follow fashion and trends — sometimes setting their own by virtue of wowing the world of fashion.
Saufeeya, who runs her own style-focused Instagram, with more than 100,000 followers, as well the account @HijabFashion, with nearly 1 million followers, said mainstream recognition isn't keeping pace with the need. "Larger companies within the fashion industry should cater to women who choose to dress modesty, Muslim or not," she said. "We are here, we exist — why aren't we being catered to?"
Some brands definitely get it: There are some brands that cater to Muslim women, both purposefully and inadvertently. In the latter case, the trend for maxi dresses, long-sleeve blouses and wide-legged pants has benefitted modest shoppers, intentional or not. 
Just this year, major brands like Zara and Mango, plus high-end labels like Tommy Hilfiger and DKNY, showed their interest in Muslim shoppers with specialty collections for Ramadan, mostly targeting Middle Eastern customers in Arab countries.
"I think we are seeing a trend in the fashion industry that caters to modest clothing. In 2015, so far we have seen everything from kimonos to billowy tops to wide-leg pants make a resurgence," Ibtihaj told Mic.
It makes sense for brands to finally perk up. Muslim consumers spent about $266 billion on clothing in 2013, according to the State of the Global Islamic Economy 2014-2015 report commissioned by Thomson Reuters and Dinar Standard, and are expected to spend about $488 billion by 2019. Even Ramadan has been slowly morphing into a shopping holiday of sorts.
Those numbers indicate that there's a market for Muslim women more than one month out of the year.
"It's easy to understand why designers have gone for Ramadan," Shelina Janmohamed, vice president of Muslim-focused consulting firm Oglivy Noor, told Fortune earlier this year. "But actually, it's the rest of the year that's really important to these consumers and young Muslim women."
Taking it into their own hands: While most brands still treat modest shoppers to only occasional attention, creative young women like Ibtihaj and Amirah are taking matters into their own hands.
In addition to their social media presences, Muslim designers and brands like Amirah Couture, Louella by Ibtihaj Muhammad and Dina Torkia are taking over the market year-round. Unapologetic, fashion-forward and seamlessly melding modesty with trendiness, these tastemakers are reaching women directly.
Their work not only caters directly to their modest peers, but also helps raise awareness. This summer, Japanese megabrand Uniqlo announced a collaboration with a Muslim fashion blogger and designer named Hana Tajima, to be modeled by Malaysian Muslim singer Yuna. Such projects, as well as the ostensibly well-intended Ramadan collections, are "a step in the right direction," said Amirah.
According to 22-year old Amara Mohd, a modest-fashion influencer, change is already evident. "I remember about 10 years ago when I was in middle school and Eid would be around the corner, I would ask my mother if she had a specific color hijab to match my Eid outfit, and she would respond, 'Check in the collection we have from overseas.' Nowadays, we find hijabs everywhere," she told Mic.
"Everywhere" might be overstating it, but hopefully it won't be, and soon. Modest fashion shouldn't have to be a once-a-year holiday affair, but rather a legitimate — and stylish— way of life.