Jon Stewart Ended the 'Daily Show' With a $2.2 Million Gift to Charity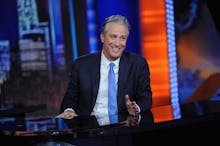 Jon Stewart's final show as host of The Daily Show went off with a bang Thursday night as dozens of friends and former correspondents flooded the stage with acclamation and praise.
Lost in the applause was a charitable project the show participated in during the run-up to the finale. In partnership with Omaze, a website that raises money for worthy causes in exchange for memorable experiences, Stewart raised more than $2.2 million for New York Collaborates For Autism. In exchange for a contribution to the cause, donors were entered into a raffle and one lucky individual was allowed to watch the live final taping and meet Stewart, the Huffington Post reported. 
"He mentioned the cause multiple times on air," Omaze's senior vice president of marketing Helen Melluish told Mic. "He was really the biggest champion of this from the very beginning."   
 "He was really the biggest champion of this from the very beginning."   
The donation was the latest in a string of charitable donations from the comedy star. 
For example, while Stewart has often denounced the Iraq War itself on his shows, last year, he helped raise money through the Omaze for the Mission Continues, a charity that helps veterans transition back into civilian life. 
In May the New York Times reported Stewart has quietly been running an operation through The Daily Show to help interested veterans break into television. 
With his show behind him, Stewart's future plans are unclear. His Daily Show set is slated to be donated to Washington D.C's Newseum. 
Watch the story of previous Omaze Daily Show winner, Paul Dorasil, here.