2015 Republican Debate Schedule: Here's the Remaining Dates for GOP Candidates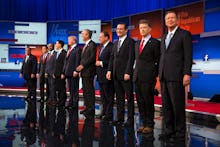 Fox News hosted the first Republican primary debate Thursday night. The network invited the 10 leading candidates to the stage for the main event and the remaining candidates to a "happy hour debate" a few hours before. 
Many memorable moments ensued, not least among them moderator Megyn Kelly slamming the party's frontrunner Donald Trump for having called women "fat pigs" and "dogs" in the past and Trump refusing to rule out running as a third-party candidate should he lose the primary election.
The much-anticipated event drew 24 million viewers, the most of any primary debate in television history, according to CNN Money. It was also the highest-rated telecast in Fox News Channel's history.
Haven't had enough? Here's the Republican debate schedule for 2015 and into 2016. 
Sept. 16, 2015: The next Republican candidate debate is scheduled for Sept. 16 and will be hosted by CNN and Salem Media Group. It will be televised from the Reagan Library in Simi Valley, California. The moderators are CNN anchor Jake Tapper and Salem Radio Network host Hugh Hewitt. 
Unlike Fox News, which had the top 10 candidates debate and relegated the seven remaining candidates to a pre-debate "happy hour debate," CNN said it would divide the candidates into two separate debates on the same night. 
Oct. 28, 2015: CNBC will host the following GOP debate on Oct. 28 at the University of Colorado in Boulder.
November 2015: There's not a set date yet for the November debate hosted by Fox Business Network and the Wall Street Journal. It's expected to be held in Wisconsin.
Dec. 15, 2015: The December Republican debate will be held in Las Vegas and hosted by CNN and Salem Media Group. 
January 2016: The date is TBD, but Fox News will host again. 
Feb. 6, 2016: ABC News and IJREview will host the debate at the St. Anselm College in Manchester, New Hampshire, on Feb. 6. 
"New Hampshire voters are independent-minded, they love their country and just plain enjoy discussing politics, and that means New Hampshire is truly IJ country," IJReview founder Alex Skatell said in a statement. "We're excited to be in the First In The Nation state for our first presidential debate, and to partner with ABC News."
Feb. 26, 2016: NBC and Telemundo will host a GOP debate in Texas. 
March 2016: Fox News will host another debate, but the exact day and location have not been set.
March 10, 2016: CNN and Salem Media Group will host the final Republican primary debate in Florida on March 10. 
Lastly, here's the schedule for the Democratic debate season.