Dr. Dre's 'Compton' Is a Near-Perfect Hip-Hop History Lesson — Save This 90-Second Skit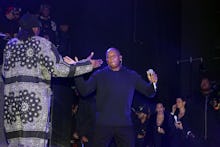 For over 20 years, Dr. Dre has been a tastemaker and institution in hip-hop.
From N.W.A up through the "The Watcher," he was instrumental in writing the rules for how to make a song simultaneously politically incisive, dangerous and catchy. Rappers come to the Doctor to get their beats crisp and their lyrics sharp. 
And on Thursday, he proved his powers once again in releasing Compton, his first album in 16 years.
Over 16 tracks, the album encapsulates the pure essence of hip-hop — what the genre has been about since day one. Sonically, it includes a hard-hitting dance track and a laid-back soul loop. Lyrically, it covers hip-hop's classic rags to riches story, which Dre has lived more thoroughly than most. It is politically and socially attuned to critiques of institutionalized racism, police brutality and hood politics.
It has everything. Including a good amount of unjustifiable misogyny. 
In one 90-second skit at the end of "Loose Cannons," COLD 187um kills an unidentified woman begging for mercy, and Dr. Dre and Xzibit help bury her. They neither speak of it again, nor help listeners understand why they did it. It's disturbing. It's unnecessary. And in 2015, it's presence is unwarranted. Whereas misogyny has been a permanent fixture in hip-hop since the earliest tracks, the times and attitudes towards women have changed. It's increasingly impossible to write-off objectification and mistreatment in this way as art. 
It's never not jarring. No matter how many times one listens to the album, the skit sticks out like a gangrenous thumb. Is the woman supposed to be a real woman in COLD 187um's or Dre's life? Is she an embodiment of all the "bitch niggas" Xzibit wants to stop "from runnin' their mouth," as he raps in the song? Even that insult, "bitch niggas," which is everywhere in hip-hop, is the epitome of hip-hop's deeply engrained misogyny — the worst traits a rapper can show are feminine
There are other examples of this kind of misogyny on Compton as well. On "One Shot One Kill" Jon Connor raps, "Still in high school, I was fuckin' niggas bitches on the hush / So no questions, it's no panties is a mother fucking must." On "Medicine Man," Eminem, in peak junkyard dog fashion, spits "I even make the bitches I rape come." 
Each is an example of the unjustifiable violence hip-hop has been directing toward women since day one.
But that's not all the album is. It features frank discussions of racial inequality and the violence that frequently plagues struggling communities. On "Animals," Dre openly scrutinizes gangsterism: "Some of us was unbalanced but some us used our talents," he raps, before turning to the negative racial stereotypes our culture is working to extinguish. "Not all of us criminals but cops be yelling, 'Stay back nigga!'"
This is another disappointing aspect of the album, but one out of Dre's control: The injustices he's rapping about today are the same one he was rapping about with N.W.A all the way back in 1988. On "Issues," the song immediately following the inexplicable murder skit, Dre talks inner city violence. "My city crazy, school girls used to play with that chalk / Same chalk police used to outline niggas we lost."
For many young hip-hop fans, this is the first Dr. Dre that's dropped in their lifetime. They've likely gone back and heard The Chronic and Illmatic and Fear of a Black Planet to give themselves an education. But Compton is an all-encompassing lesson in hip-hop history. It's features several hip-hop living legends — Snoop Dogg, Ice Cube, Eminem. It talks about maintaining a sense of drive in a savage environment and the importance of work in getting one's self and one's family out. It highlights the social consciousness that gave hip-hop the special status of being simultaneously a political and artistic movement. And the misogyny.
In a way, it's a rich template that shows everything hip-hop has been for the past 20 years or so. It's what makes it simultaneously brilliant and horrifying. Listening closely to it, we now have a choice. What direction do we want future hip-hop to take out of all those the album suggests? Will we build on its social and political consciousness and hopefully use the music as the inspirational tool it's always been? Will we realize that the misogyny runs contrary to this aim to uplift? "I want this album to be inspiring," Dre told Apple Music's Beats 1 on Thursday. "I want it to be motivational." 
It's up to us to interpret the lessons and deal with them.